This post is also available in: Spanish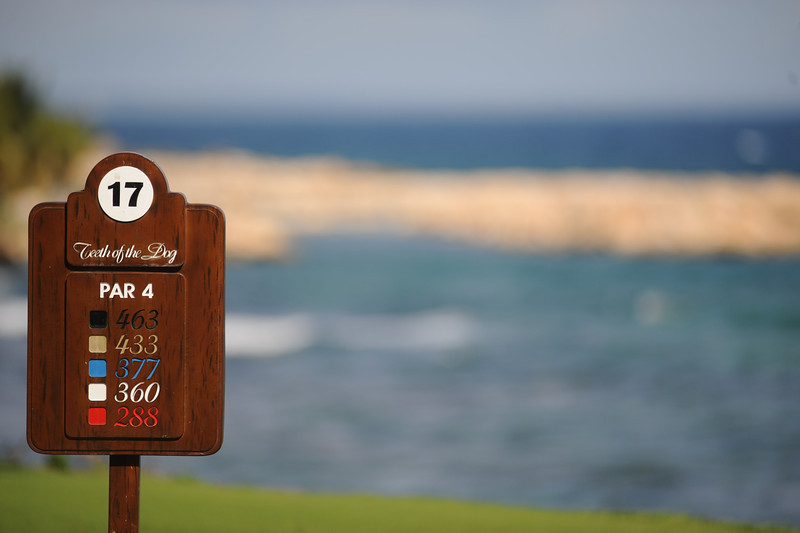 Casa de Campo's award-winning golf course, the Teeth of the Dog is without a doubt an absolute pleasure to play… But she is not without her challenges! So which is the toughest hole?
Well during the DR Open 2014 (click here for photos and coverage), part of the PGA Tour Latinoamérica played on the Teeth of the Dog, we talked to tournament winner Michael Buttacavoli, as well as fellow professional golfers Chris Gilman and Willy Pumarol, a rising star of Dominican golf… And all three told us that the undeniably most difficult hole of the Teeth of the Dog is #17.
Here's what they had to say about hole #17, Teeth of the Dog:
"17 is the hardest. It requires a very good tee shot, and the green is extremely narrow. If you hit it towards the left bunker it's an extremely difficult shot out as you have an overhanging tree that blocks you, but if you hit right you're in the water. You're almost intentionally trying to hit it to the front of the green, even if you have to chip up."

– Michael Buttacavoli
"17 is amazingly hard. The way the wind comes in, you have to aim your second shot into the ocean to really get the ball close, so you end up aiming farther left, and then the wind takes it even farther left, which then makes it really hard to make par from there. I took it at the ocean, and still made bogey, but some people hit it to the front of the green and try to make par from there."

-Chris Gilman
"The most challenging is 17. To tee off is very hard since it has a tight landing area and then you need a very precise shot to the green, made especially challenging because of the wind that is usually blowing against you."

-Willy Pumarol