This post is also available in: Spanish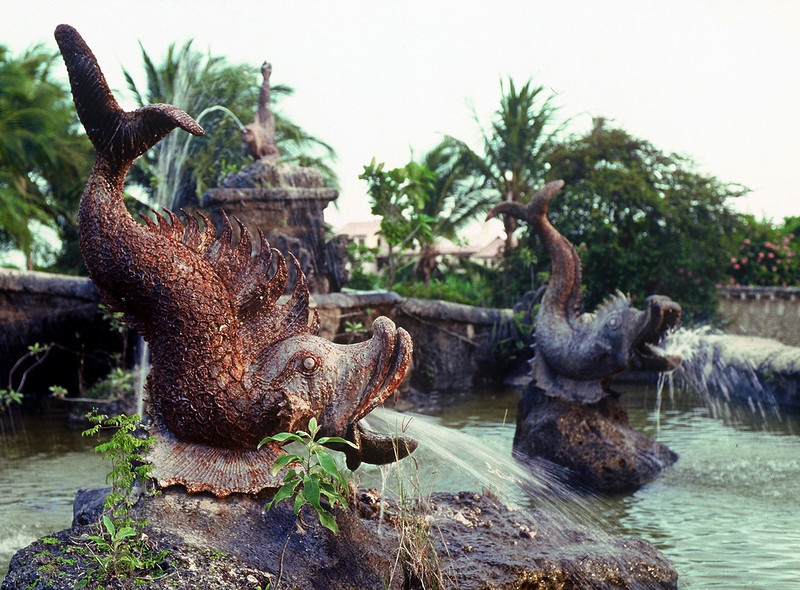 The great majority of metallic artworks found throughout La Romana and Casa de Campo as well as across the entire country, carry a distinctive mark. The signature of a talented blacksmith, who through enduring the searing heat of his trade, transforms what could be considered as junk into beautiful works of art.
These pieces, in copper, bronze, iron, aluminium, and alloys, are the work of José Ignacio Morales, better known as "El Artístico", who has dedicated more than 38 years to his craft, elaborating lamps, statues, gates, doorways and monuments; anything and everything that can be created with these materials.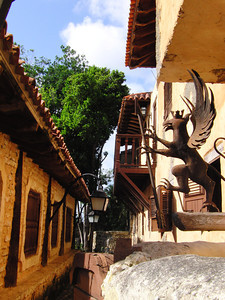 Morales tells us that he started working with metal when he was just 12 years old creating decorative objects, and thanks to the community's admiration for his work, won his first job creating mirrors, candlesticks and other objects for the old Hotel Romana.
However, says Morales, it was in Altos de Chavón that he was first able to achieve greatness with his work. From working in a team and learning to interpret his talent, he was able to infuse each of his pieces with old-world designs.
Morales began his work in Altos de Chavón in the 1970's, when the Casa de Campo resort was just starting. At the same time, El Artístico fashioned decorative pieces for Casa's very first villas. Among those first homes, Morales remembers the Fanjul family's estate, Casa Grande, La Favorita of the Bluhdorn family, La Palapa belonging to Italian Film Producer Dino De Laurentiis, as well as the villas of Dominican designer Oscar de la Renta, and Italian actress Silvana Mangano.
El Artístico's work in Altos de Chavon lasted 8 long years. Thanks to the ingenuity of set designer Roberto Coppa, Altos de Chavón's designer, Morales was responsible for the creation of the crosses adorning the church and the central plaza area, the church door, the famous "fish fountain" and numerous other unique and striking metallic details littered throughout the village.
"The pieces of Altos de Chavón have the style of ironworks forged in Rome. It was very difficult to do. It was a style the great masters used," said Morales, who during his time in Chavón led a team of more than 200 artisans.
St. Stanislao Church at Altos de Chavon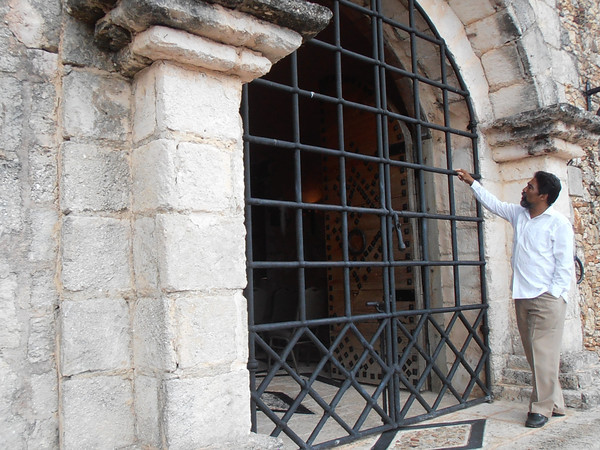 According to Morales, the biggest challenge was the creation of the iron door of the church. "It was the piece that most affected me, learning to pass one bar through another of the same width without the guidance of those great masters… that was one of my biggest achievements."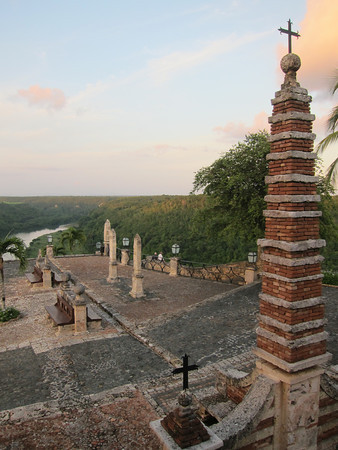 "Every detail of Chavón is unique. For example, when moulding the crosses around the church I made an error, which when I pointed it out to Mr. Coppa, he told me 'leave it as it is, because now they look as though they have been aged through time', so I did, and in that way they became a work of art" recalled El Artistico with much enthusiasm.
To achieve the spectacular nature of his work in Chavón, Morales had to study the designs of earlier times and in it, impregnate his own style, a style which is now recognized both nationally and internationally.
"It was in Altos de Chavón where I started to interpret ideas. Chavón was my school, as much in professional development as learning to interpret a client's desires and ideas," he explained.
This humble man feels incredibly grateful to certain individuals who have supported him throughout his career. Among them he mentions Roberto Coppa, President of Casa de Campo Dr. Claudio Silvestri, and many other distinguished families such as the Fanjuls and the Bonettis.
In fact it was in the home of the Fanjuls, Casa Grande, as well as of Dominican designer Oscar de la Renta, that Morales did his first pieces in the resort. "I remember that they were very beautiful and I decorated them with all different types of lamps, wall hangings, vases, mirrors and more."
"Working in Casa de Campo has changed my life. I have worked on about 80% of the villas here, " Morales told us with great pride.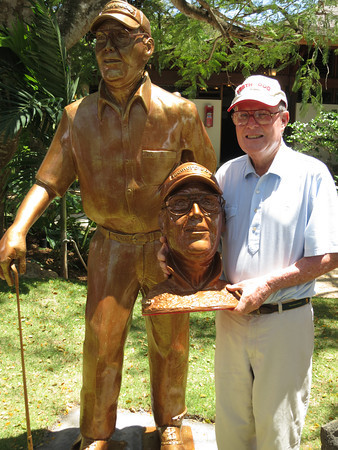 One of El Artistico's most recent works is the statue of Pete Dye, designer of all 5 of Casa de Campo's golf courses, considered some of the best in the Caribbean and indeed the world. "The statue was a great challenge, but also a great honor. Pete Dye is one of those people who comes into this world and leaves a legend," said Morales.
"Normally a piece like that would take three to six months, or even a year to finish. But this we completed in 15 days." And yet the hurry to finish was not well rewarded, upon first sight, Dye did not like his statue. You see, one of the first steps in the creation of the statue was collecting photos of Pete Dye, and those he was given were of his youth, hence the initial design depicted Dye without his glasses, a feature he considers as an essential aspect of his appearance.
The bust of the statue had to be re-created, but this time El Artistico did it with Dye at his side. "And then he did like it. It was a great pleasure to see how much he liked his statue."
Currently, El Artistico is working on a "very important" project in Panama, whilst also continuing to provide service to several national and international hotel chains.