This post is also available in: Spanish
Last Saturday the 8th of February was a night of stars, of the INMORTALES of latin baseball. No Latin American baseball event has ever brought together such a legion of baseball greats of yesterday and today, as did the Grand Induction Ceremony of Latino Baseball Hall of Fame.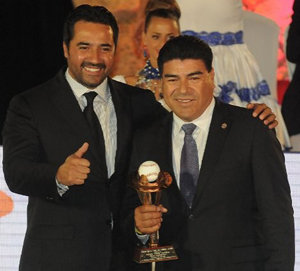 This major event held at Altos de Chavón amphitheater, was legendary. Every detail shone; the outstanding production quality, the scenery simulating a baseball field and some of the greatest heroes of Latin American baseball, Roberto Alomar, David Ortiz and Robinson Canó, to name but a few.
A total of 14 baseball greats were inducted to the Latino Baseball Hall of Fame. Inducted into the contemporary class were Dagoberto "Bert" Campaneris (Cuba), Vinicio "Vinny" Castilla (Mexico), Aurelio López (Mexico), Omar Moreno (Panama), Juan "Terín" Pizarro (Puerto Rico), Moisés Alou (Dominican Republic) and from Venezuela, Luis Salazar and César Tovar (posthumous).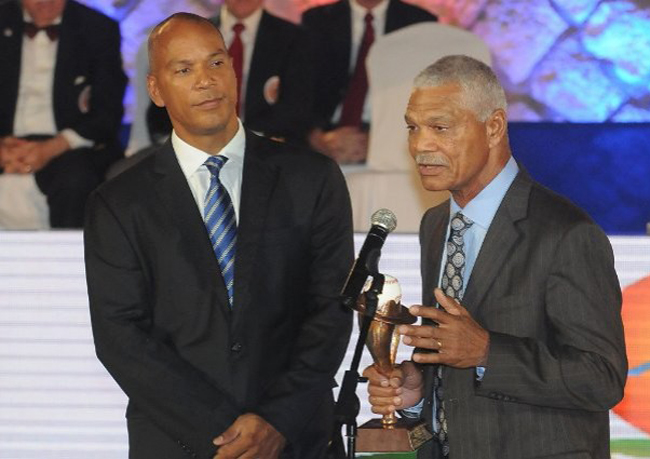 "Moises don't retire son, still giving laurels to the country, though you were born in Atlanta, you're a great Dominican."

Felipe Alou
Latino Baseball Hall of Fame, Inductee Class of 2010
Inducted into the veteran category were Silvio García (Cuba), Baldomero "Melo" Almada (Mexico), Gil Garrido (Panama), Luis Rodríguez Olmo (Puerto Rico), Osvaldo "Ozzie" Virgil (Dominican Republic) and Luis Camaleón García (Venezuela).
Julian Javier with Osvaldo Vigil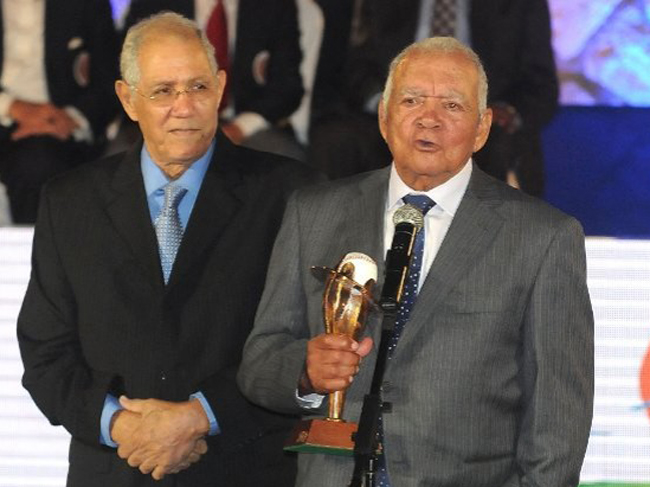 Each of these great latino legends, were welcomed on stage by ceremony hosts Kevin Cabral and Guillermo Celis to receive their awards. Although all players were emotional, the most magical moment of all was when, Felipe Alou an inductee of the class of 2010, gave his son Moises Alou his award as an official member of the Latino Baseball Hall of Fame, class of 2014.
David Ortiz and Robinson Canó, who were the most acclaimed stars of the night, received the "Latino de Oro" and "Excelencia Latina" awards respectively, for their careers and contributions to Latin baseball.
Omar Moreno with Bengamin Oglivie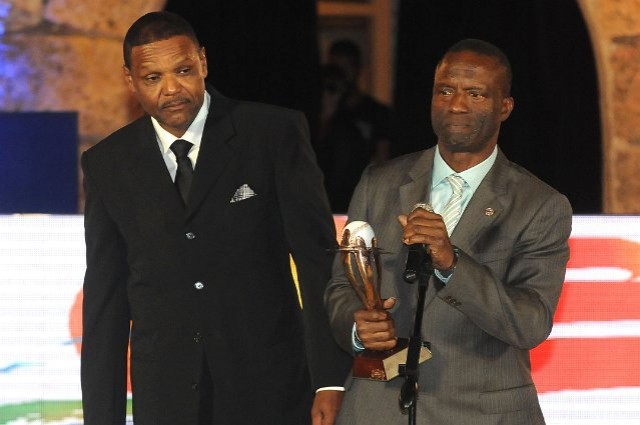 "It is great to receive this award in a country that I love, I was trained here as a player."

 Omar Moreno
Latino Baseball Hall of Fame, Inductee Class of 2014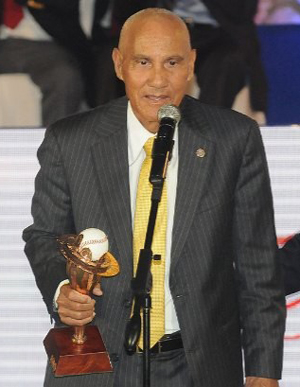 The "Premio Tom Lasorda", which is awarded by a non-latin american figure who has made significant contributions to the world of Latino baseball, this year was to the Major League Commissioner Bud Selig but the award was received by Rafael Pérez, representative of the MLB (Major League Baseball) in the Dominican Republic, while Bud Selig thanked the Latino Baseball Hall of Fame through a video. This award has been received in previous ceremonies by Peter O'Malley, George Steinbrenner, Pat Gillick and Jackie Robinson.
A touching moment was when the Latino Baseball Hall of Fame gave a special recognition to the Dominican team baseball team, who won the most recent World Baseball Classic. Moises Alou, general manager, Robinson Canó (MVP), Edwin Encarnación and José Canó, pitching coach, received the award. Also receiving a special recognition was Puerto Rico team, runner up in the World Baseball Classic. The award was received by Edwin Rodriguez, team manager.
Luis Olmo with Juan Igor Gonzalez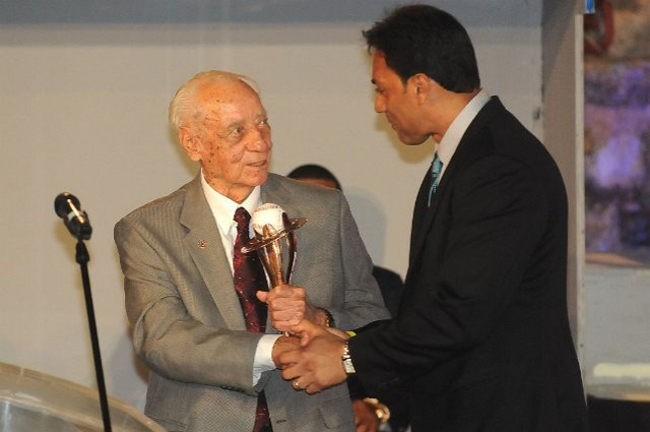 "The best place for play baseball is in the Dominican Republic – the best fans are here."

Luis Olmo
Latino Baseball Hall of Fame, Inductee Class of 2014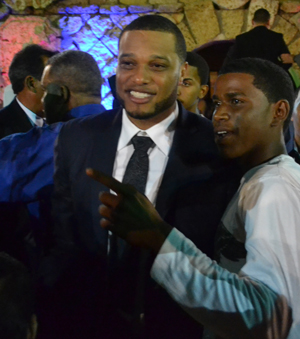 The event was opened by the Camerata Coral Dominicana (choir) performing the National Anthem, followed by a blessing with Rev. Víctor García of the Altos de Chavón church. While Roberto Weill, founder and president of the Latino Baseball Hall of Fame (Salón de la Fama del Béisbol Latino) welcomed the crowd, as well as special guests such as Sr. Luis Scheker Ortiz, Alejandro Asmar Sánchez, Cuqui Córdoba, among others.
This year the Grand Induction Ceremony, which was dedicated to Mexico, closed with a performance by merengue singer Rubby Pérez also known as "La Voz más Alta del Merengue", as well as a fireworks show.
 The following photos were taken at the Altos de Chavón amphitheater, on last Saturday the 8th of February in the Latino Baseball Hall of Fame Grand Induction Ceremony: