Last week on June 1st, the start of the 2018 "Hurricane Season" began. Some of you might question how is that possible since it's been so incredibly hot lately?! Well, coming into hurricane season doesn't mean constant rain — it just means that when it does rain it'll be stronger and more consistent than other times of the year. We plan on staying on top of potential hurricane developments as Casa de Campo can get hit hard at certain points of the year.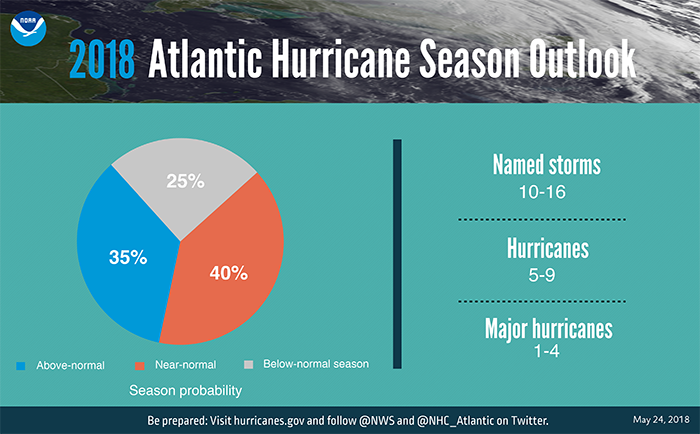 The National Oceanic and Atmospheric Administration NOAA issued its forecast for the 2018 Hurricane Season in the Atlantic, Eastern Pacific, and Central Pacific. This forecast for the 2018 Cyclonic Season predicts that, for the Atlantic Ocean region, there is a 40% probability of having a near-normal hurricane season, a 35% chance of having a hurricane season above normal and only 25% of witnessing a hurricane season below normal. The NOAA indicates that for this 2018, between 10 and 16 tropical cyclones could be formed in the Atlantic, this includes the Caribbean Sea and the Gulf of Mexico. Of those 10 to 16 Cyclones at least between 5 to 9 will be hurricanes and 1 to 4 will be intense category 3, 4 or 5 hurricanes. The average during hurricane season in the Atlantic is 12 Storms and 6 Hurricanes.
Casa de Campo Living also checked the forecast at the National Hurricane Centre and it reports that for the North Atlantic, Caribbean Sea, and the Gulf of Mexico no tropical cyclone formations are expected over the next 5 days (as seen in the map below).
Last year, hurricanes Irma and María, both of category five, devastated the Caribbean. Irma unleashed torrential rains and winds on the islands of Barbuda, San Bartolomé, San Martin, Anguilla and the Virgin Islands. Meanwhile, Maria, who attacked only two weeks later, caused havoc in Dominica and Puerto Rico. In the later, leaving devastating effects still persistent in 2018. Fortunately for us living in the Dominican Republic, whilst we are invariably affected by hurricanes every year – only 11 hurricanes in the last 80 years have made landfall on the Dominican Republic. The last major hurricane to affect the Dominican Republic was Hurricane George (category 3) which made landfall on September the 22nd 1998 and before that there was Hurricane David (category 4) in 1979.
The Pacific hurricane season extends from may 15th through November the 30th with the most 'active' months in the Dominican Republic typically being August, September, and October. September has proven to be the 'peak' month for hurricanes, tropical storms, and heavy rains. We posted a series of tips on how to prepare your home for Hurricane Season, but we also encourage you to check out the brochure prepared by ONAMET. The names of the 16 named storms by Metorológia RD are Aletta, Bud, Carlotta, Daniel, Emilia, Fabio, Gilma, Héctor, Ileana, John, Kristy, Lane, Miriam, Norman, Olivia, and Paul.
We here at Casa de Campo Living will do our best to keep you informed, but for up to the minute notifications check out:

• www.nhc.noaa.gov – The National Hurricane Centre
• www.weather.com – The Weather Channel
• ONAMET.gov.do – the Dominican Republic's official weather warning people (this one is in Spanish)
• Twitter: We recommend following NHC_Atlantic – for regular tweets on hurricanes, tropical storms etc