This post is also available in: Spanish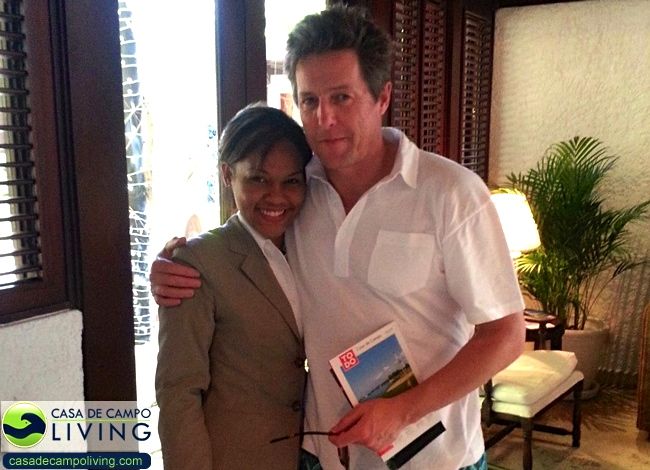 Hugh Grant, the internationally famous English actor and film producer visited Casa de Campo this past weekend – during which time he made use of TODO Casa de Campo magazine, the official guide to Casa de Campo produced by Silgon Inc., Marketing, Web Development & Publishing Services to get himself orientated, as well as (we assume) CasaLife magazine, to help get better acquainted with the luxury lifestyle Casa de Campo offers all its guests and villa owners!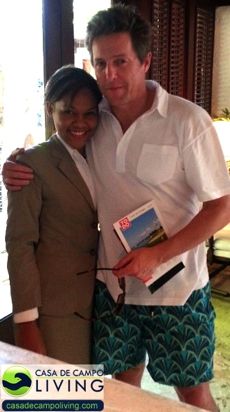 Staying at the Casa de Campo villa of a friend, Hugh Grant was spotted at the Casa de Campo Villa Owners Club on Sunday December 30th 2012, where he picked up the latest issue of TODO Casa de Campo, as well as of course graciously posed for a quick photo with a rather excited fan!
According to our sources Hugh Grant was in Casa de Campo only for New Years Eve and has now unfortunately left – however with so many fun parties being celebrated over New Years Eve we are sure he had a great time and hope to see the handsome actor back very soon!
It's been a very busy and fun-filled "season" here in Casa de Campo, and so we will be bringing you coverage of all the parties very soon; the Julio Iglesias concert in the Altos de Chavón amphitheater, the Cartier fundraiser for the Fundación MIR and the Hogar del Niño, as well as of course all the New Year's Eve celebrations such as the Palmillaso and the Praia Beach Party!
Once again this season Casa de Campo has seen its fair share of celebrities and VIP visitors – such as Hugh Grant, as well as Usher, the American R&B singer and actor – you can expect more photos from us soon!
TODO Casa de Campo magazine is brought to you by Silgon Inc., Marketing, Web Development & Publishing Services, who are also creators of Casa de Campo Living website, CasaLife and TODO La Romana – Bayahibe. 

What's your media stategy?

(809) 523-2045