This post is also available in: Spanish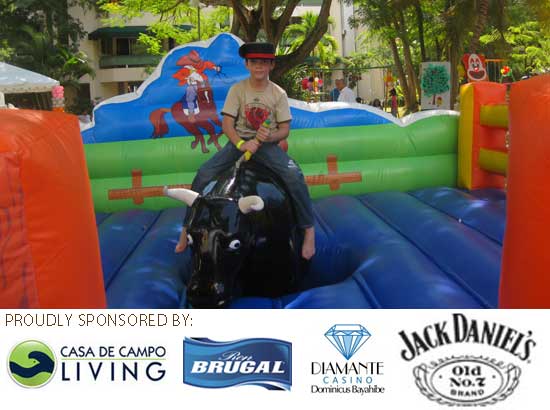 Yeeeehhhaaaawww cowboy! At the Hoedown 2011 on Saturday the 2nd of July, from 4pm, we invite YOU to ride our mighty mechanical bull and take part in our 'Rodeo Riding Contest!' 
At the Hoedown 2011 next Saturday the 2nd of July, amongst the ponies, the BBQ, western music and dancing, the adults only area with a Jack Daniel's Whiskey Saloon, Casino by the Casino Diamante Dominicua Bayahibe and a bar by Ron Brugal you will find a wild and ferocious BUCKING BRONCO (otherwise known as a Rodeo Mechanical Bull or a 'Toro Mecánico.'
Details of the Rodeo Riding Contest are as follows:
Rodeo Riding Contest on the Bucking Bronco!



When: Saturday the 2nd of July from 4pm

Where: The FLAMBOYAN Conference Centre, Casa de Campo

Cost: RD$100 per try or RD$500 for unlimited riding!

Prizes:
We have a range of prizes for the most successful bull-riders including:
• dinners at the Casa de Campo restaurants
• spa treatments for adults and children at the Cygalle Healing Spa in Casa de Campo
• Bottles of Jack Daniel's Whiskey and Ron Brugal for adults
The Hoedown 2011 – next Saturday the 4th of July from 4pm in the Casa de Campo Dude Ranch!
This article was brought to you by Rebecca Hughes, editor of Casa de Campo Living and Casa de Campo's entertainment specialist!

Rebecca Hughes, Editorial and Events Marketing
[email protected]
TEL: 809-523-2045    BBM: 230DA5D1
Altos de Chavón, Casa de Campo

Don't miss the HOEDOWN on Saturday the 2nd of July from 4pm at the FLAMBOYAN conference center, click here to find out more!
This article was written exclusively for: www.casadecampoliving.com