This post is also available in: Spanish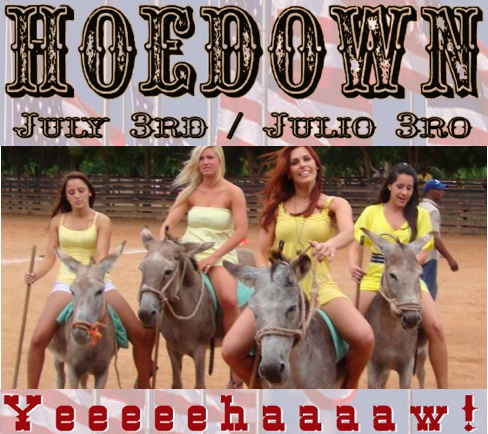 The Ye Ol'Fashioned HOEDOWN event will take place on Saturday July the 3rd, from 4pm at the Casa de Campo Dude Ranch and one of the main attractions will be the Donkey Polo Tournament!!
EVERYONE and ANYONE is invited to take part in the Donkey Polo Tournament! Polo is widely acknowledged to be the 'sport of the kings' while Donkey Polo is known as 'the sport of the asses' (a pun on 'masses' I believe), as its fun nature appeals to everyone! Donkey Polo is a team sport played on Donkey-back in which the objective is to score goals against an opposing team. Riders score by hitting a multi-colored inflatable ball or beach ball into the opposing team's goal using a broom. Each Donkey Polo team consists of four riders and their 4 donkeys.
WHEN? Saturday, July 3rd at 4:30PM

WHERE? The Casa de Campo Dude Ranch at the Ye Ol'Fashioned HOEDOWN (Fiesta Americana)

WHAT? Donkey Polo Tournament – battle it out with a broom and prove who's the best Vaquero in Casa de Campo!

DRESS CODE? Cowboys and Cowgirls attire (we strongly recommend jeans to prevent chaffing and a cowboy hat to look cool!)

COST? FREEE!!!

REGISTER: To register your team of 4 people, click here!

PRIZES? A massage at the Cygalle Healing Spa – you'll need it after this strenuous exercise!!

POST-TOURNAMENT REFRESHMENTS: FREE Jack Daniels Whiskey and sizzling meats fresh off the BBQ (at precios populares)
This event is being sponsored by Land Rover by AutoBritanica, who will be creating various automobile displays with their 2010 models of the Range Rover, Range Rover Sport and the Discovery 4 – beautiful, reliable and safe SUV's ideal for manouvering over Casa de Campo's many speed bumps and carrying the family safely into La Romana and beyond….

The event is also being sponsored by Jack Daniels Whiskey, America's favourite Bourbon, who will be setting up a Jack Daniels Whiskey Bar – perfect for getting all you cowboys and cowgirls into the party mood!
Over 18's only.
This event is being sponsored by Land Rover by Auto Britanica