This post is also available in: Spanish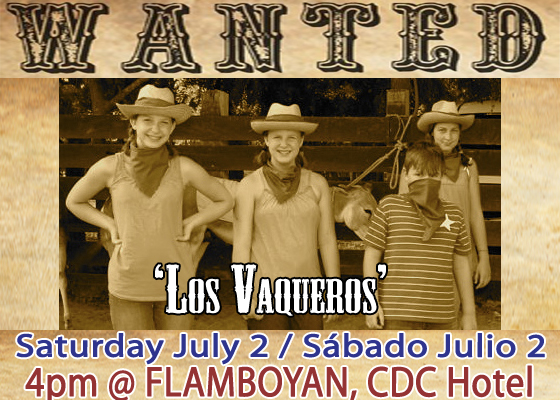 Yeeeeehhhhhaaaaaawww cowboys! Are you ready for the Hoedown? The Hoedown 2011 is taking place this Saturday the 2nd of July from 4pm in the Casa de Campo FLAMBOYAN conference centre and NOT at the Dude Ranch as was originally planned!
We're not fans of making last minute changes, but due to unacceptably high probablity of rain on Saturday and some scheduling problems with the donkeys – we've decided to move the HOEDOWN to take place inside the FLAMBOYAN conference center to ensure the party goes ahead come rain or shine!
So what does this mean for the Hoedown? Don't worry the party will be just as fun and will have:

• A Mechanical Rodeo Bull

• Wild and Western Costume Contest

• Can-Can Girls

• Western Music and Dancing

• Bouncy Castle / Juego Inflable

• Martillo de Fuerza

• BBQ

• Bazar

• Mini-Talent Show – starring talented singers from the Casa de campo community
(If you want to take part in the show contact us on: [email protected])

• Adults-Only Area with free cocktails and 'brindis' at the Jack Daniel's Whiskey Saloon and bar by Ron Brugal

• Poker Tournament and Black Jack with the Casino Diamante Dominicus Bayahibe

The Hoedown 2011

When: Saturday July 2nd, 4pm

Where: The 'FLAMBOYAN' Casa de Campo Conference Centre

ENTRY: Free

DRESS CODE: Cowboys and Cowgirls!

SPECIAL ENTRANCE TO CASA DE CAMPO
For those who do not normally have access to Casa de Campo, a special discount day-pass can be purchased for access to the hoedown, the details are:
Adults: RD$400
Children: RD$200 (age 4-12 years)
These day-passes/tickets will be for sale at the Villa Owners Club at the main Casa de Campo entrance on the day of the event.

We look forward to seeing you there! Yeeeeeehhhaaaawwwww!!