This post is also available in: Spanish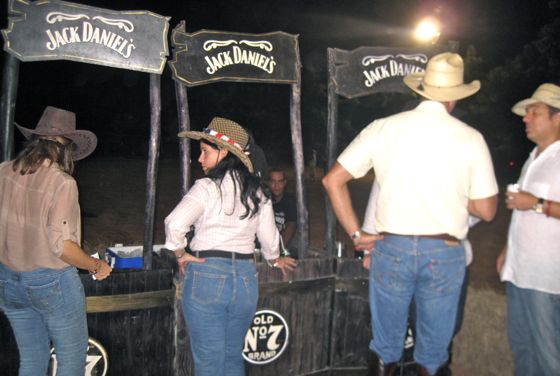 On Saturday July the 3rd was the Casa de Campo Living Hoedown, an American/Western themed party in the Dude Ranch, sponsored by Jack Daniel's Whiskey and AutoBritánica by Land Rover.  Although for many the main party attractions were the Donkey Polo tournament, the poney rides, the Land Rover car tours or the live band, but for many other raucous bandits, something that had a big pull was the Jack Daniel's Saloon Bar!
The Jack Daniel's Saloon bar, sponsored of course by Jack Daniels was fashioned out of bales of hay, a wooden facade for the bar, a traditional 'barrelhouse' entryway and rocking chairs – it wasn't the height of luxury but fitted in perfectly with the 'western' theme and with plenty of free Jack Daniel's being served on the rocks or mixed as a cocktail – it was certainly the popular watering hole of the event!
Charlie's Angel's Emanuela Giovannetti and Yollmary Genao, acting more like saloon gals!!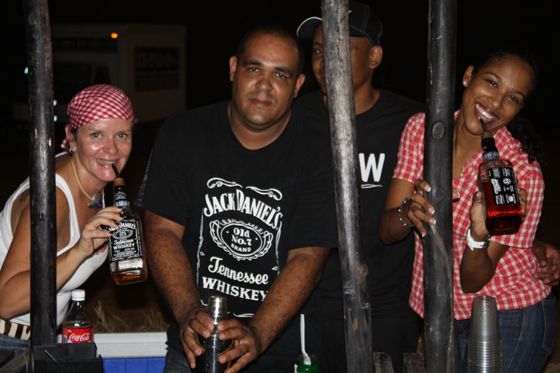 The following photos are a selection of other photos taken of people enjoying the Jack Daniel's Bar, these photos were taken by myself, my brother Craig Hughes and my friend Emanuela Giovannetti – THANKS for your help guys!!
Right next door to the Jack Daniel's saloon was La Aurora, who had constructed a wooden smoker's lounge and were hand-rolling their premium La Aurora cigars for cigar aficionados all day and night. The La Aurora lounge was a great place to relax, enjoy a cigar and watch the entertainment – dances from a troupe of very attractive Can-Can girls!! Yeeeehhhhaaaaawwww!!
The Can-Can dancers in the La Aurora cigar lounge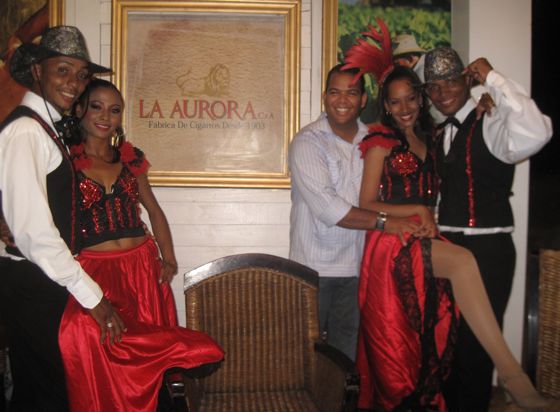 The following photos were taken by myself and my brother Craig Hughes of guests enjoying the cigar lounge and the cigars!