This post is also available in: Spanish

Luxury cruise liner the Costa Luminosa docks in the La Romana – Casa de Campo tourist port every Monday – AND offers YOU the opportunity to climb on board for a delicious 4-course meal, as well as the opportunity to explore the ship and enjoy the onboard entertainment; live music, dancing, shows and the casino.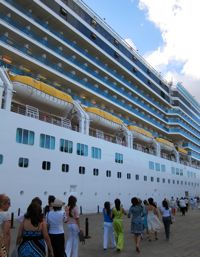 The Costa Luminosa Experience (US$60 per person), includes a 4-course meal with wine and espresso coffee, following which guests are free to explore this magnificent vessel and enjoy the on board entertainment and facilities; shopping, 4D cinema, bars, casino and live entertainment on the pool deck.
And as the Costa Luminosa will set sail for the last time (until next year) on Tuesday the 23rd of April, there are only 3 more opportunities for you to have a great night out aboard the Costa Luminosa!! The last remaining dates available are:
• Monday April 8th
• Monday April 15th
• Monday April 22nd
So what are you waiting for?! Choose your date or dates and book your place for a GREAT night out!
Philip Silvestri and Rebecca Hughes (me!) aboard the Costa Luminosa!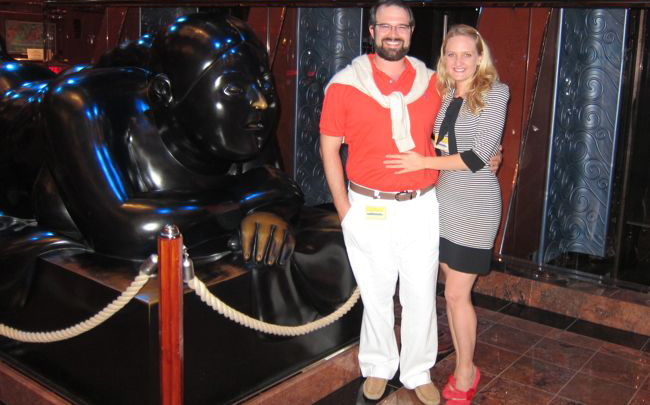 Only 30 guests are permitted on board per Monday night – so please plan your visit in advance to avoid disappointment! And please note that reservations MUST be made by the FRIDAY prior to your visit.
The Costa Luminosa Experience

Cost: US$60 per person, includes dinner with wine and coffee espresso
(Birthday cake may be ordered for an extra US$12)

Schedule: Every Monday evening, from Monday December 17th through to Monday April 22nd.

Embarcations: From 7:30pm

Disembarkation: Before 2am

Meeting place: The Casa de Campo – La Romana Port
(Transportation to the port is not included)

Reservations: Spaces are limited so reservations must be made in advance and by the FRIDAY prior to your visit.

Contact: Xochitl Cordero, (809) 523-2079, [email protected]

Documentation: Each visitor must present a valid photo ID to board the vessel. Upon boarding guests must register a credit card and will be given a "Costa Card" which can be used to make purchases in the shops and spa, as well as pay for additional drinks in the bars, casino etc.
A dinner aboard the Costa Luminosa for the Orfanato Niños de Cristo orphanage!

On Monday the 11th of February 2013, a group of generous Casa de Campo villa owners, as well as members of the La Romana community enjoyed a fabulous evening aboard the Costa Luminosa cruise ship – docked in the Casa de Campo – La Romana port, for the organisation's annual fundraising gala dinner.