This post is also available in: Spanish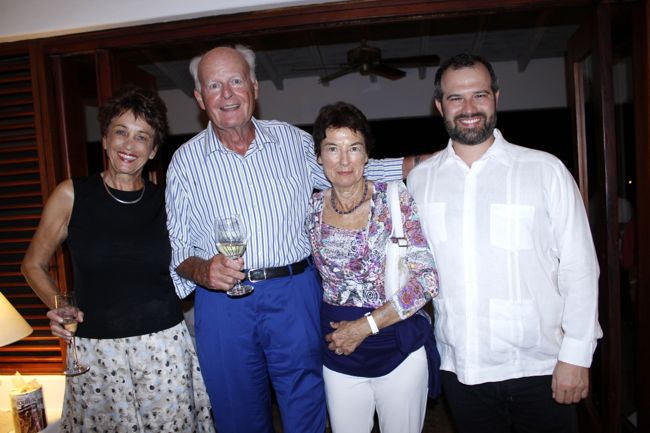 It is always a pleasure to share good times with our beloved Casa de Campo community, and that was certainly the case at the recent "happy hour" celebration thrown by Peter and Renata Winterstein.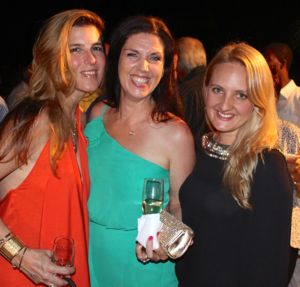 This jovial couple from Austria have had a home in Casa de Campo for more than 28 years, during that time making many friends and great memories. Last Saturday the 8th of February, they decided to host yet another gathering, for no other reason than to get together and have a good time with friends – after all what more reason do we need to have fun?
Celebrated at their beautiful Casa de Campo villa in the Barranca Este neighborhood, Peter and Renata welcomed their guests to cocktails around the pool, where Victor Mitrov, one of the most prominent Bulgarian musicians of his generation and a distinguished young orchestral performer, set a magical tone for the evening.
Victor Mitrov performs almost weekly at La Caña Bar by Il Circo at the main Casa de Campo hotel, and also performed recently at the Dueños 2013 celebration at Minitas Beach, once known for his skills on the trumpet, Victor is becoming increasing popular for his singing, performing a variety of music and genres, which the community has fallen in love with.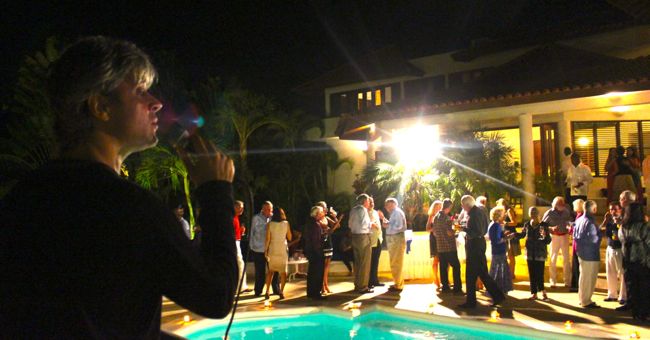 Having had roots in Casa de Campo for such a long time, we couldn't resist taking the opportunity to ask Renata and Peter to tell us a little bit about not only their recent party, but also their history in Casa de Campo. So here's what they had to say:
"Wherever we live, we love to have guests. The exchange of information, thought and culture is very important to us. We also believe that it keeps us young at heart!

Some time ago, we visited the Cana Bar and heard Victor Mitrov sing and trumpet into the night. His talent impressed us so much that we spontaneously decided to host an even bigger party with Victor, so that our friends would be able to enjoy his incredible music, thereby making the evening an even greater success.

More than 100 guests came to our party, and we hope to invite just as many in the future. But what would have happened to the party if it had rained? The weather has been very unpredictable as of late. Luckily, one of our friends performed a reversed Rain Dance and that blessed us with a star filled sky that evening!

As usual the crowd was quite international. For fun, we counted the nationalities and determined that we hosted friends from 13 different countries! Our food also reflected this: we are passionate cooks and always care for new recipes.

There was no theme except the promise of drinks, food, music and fun. The success of the evening however lay solely in our guests as only they made the party what it was! Casa de Campo is an ideal place to host these types of events.

It is a resort that has grown slowly and successfully over the decades. Its organic growth makes Casa de Campo unique, apart from the fact that it has exceptional leisure possibilities. Another highlight is our charming Altos de Chavón with its Altos de Chavón School of Design which is affiliated with the Parsons School in New York; the Marina, which docks the most beautiful ships from around the world; as well as the international golf, tennis and polo tournaments!

When we bought a lot and built our house in 1989, we were firmly convinced that we had made the right choice. Since then, we have never once looked back on this decision!"

Peter and Renata Winterstein
Casa de Campo villa owners since 1989
Congratulations and thank you to Renata and Peter for hosting such a wonderful party – we all had a fantastic time, and we're looking forward to another very soon!
The following collection of photos were taken at the Casa de Campo villa of Renata and Peter Winterstein: