This post is also available in: Spanish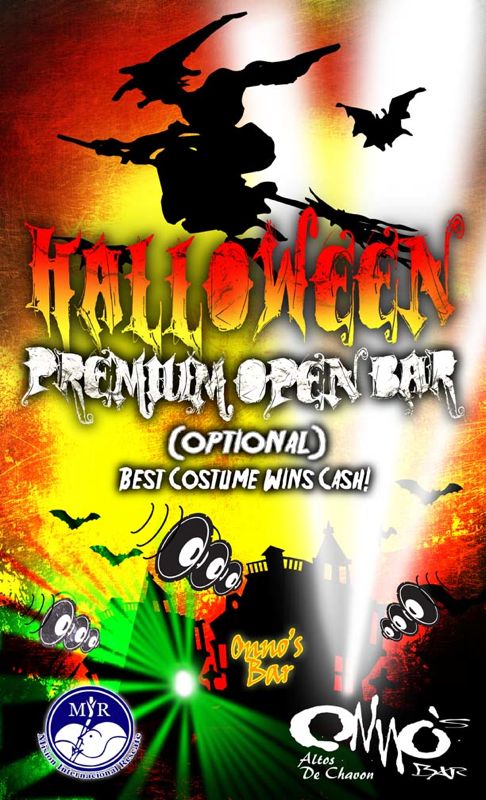 This Halloween Altos De Chavon's most infamous restaurant and bar is teaming up with the Fundacion MIR for a night of wicked fun.
The bar will be decorated to the hilt and people will be in their best Halloween costumes, transforming the normal Onno's look into one of shock and awe!!
DJ Paul and guests will be providing the music to make sure the night goes off with a bang, the bar will have extra lighting and the Onno's original high performance sound system.
To keep the throats lubricated Onno's is offering their Premium Open Bar – with only the best quality alcohol; Johnny Walker, Stolichnaya Vodka, Brugal Extra Viejo Rum and Jose Cuervo Tequila.
The best costume will win a cash prize and the two runners up will win an tab to use at Onno's for the following month. So make sure you come with your best look and you could be a winner!
The best part of this party at Onno's is that a percentage of the proceeds of this event will be donated to the Fundacion MIR. Fundacion MIR is a local charity that assists the Dominican Republic's most needy people with housing, medical care, education and technical training.  Onno's bar is very excited about working as a team with the Fundacion MIR and hopes that this night is the first of a long lasting collaboration between the two organizations.
Join Onno's on Saturday 31st October in Altos De Chavon to get your party on the right way while supporting a great cause.
More information available at [email protected]
This article contributed by Jupe, manager of Onno's bar, Altos de Chavon.