This post is also available in: Spanish
Charly Alberti and Zeta Bosio return with unique shows for Latin America to revisit their work with their fans, with the participation of great guest artists. "As much as we try, we will never stop being Soda." That's how Gustavo Cerati, from Soda Stereo, spoke to his fans. From that unique connection that today returns in the form of gratitude and respect with a live show that will surely be a moment of intense sensations, Soda Stereo will be in concert on March 28 in Altos de Chavón, Casa de Campo.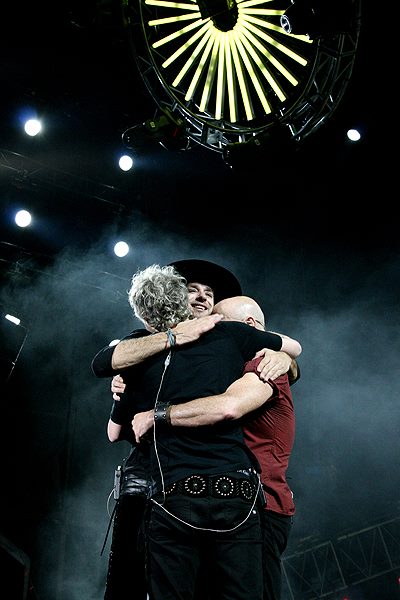 Andrés Pichardo Rosenberg, president of Casa de Campo Resort, said "Soda Stereo is the most admired Spanish rock group in the history of Latin music. Having them in concert will be an unforgettable experience for all their fans. It's a tour that since its announcement generated great expectations all over Latin America."
"In life, there are moments to laugh, to cry, to get excited, to give thanks with love and respect. We want to celebrate these songs. Vibrate with them together. Friends from everywhere will be joining us." In this way, Zeta Bosio and Charly Alberti close an open letter shared in their social networks where they announce what seemed impossible.
"The reunion of Soda Stereo will be an artistic event," promised businessman Gamal Haché. "Special because great music stars will be added to these concerts. Some of the confirmed artists, for the concerts that are already dated, are Rubén Albarrán, Benito Cerati, Richard Coleman, Adrián Dárgelos, Andrea Echeverri, Juanes, Chris Martin and Gustavo Santaolalla. "
Charly and Zeta will celebrate the music and history of Soda Stereo with live shows in Latin America along with some of the greatest international artists who, in person or through a stunning audiovisual format, will be present to honor the band's work , thank so many years of loyalty with their fans and honor Gustavo Cerati.
The stars that have confirmed their presence include Adrián Dárgelos (Babasónicos), Álvaro Henríquez, Andrea Echeverri (Aterciopelados), Benito Cerati, Chris Martin (Coldplay), Draco Rosa, Fernando Ruiz Díaz, Gustavo Santaolalla, Juanes, León Larregui (Zoé), Mon Laferte, Richard Coleman and Rubén Albarrán (Café Tacvba).
The exclusive pre-sale will be from January 7 with a 15% discount for Mastercard credit, debit and / or prepaid card holders available at Uepa Tickets, CCN and the Casa de Campo Owners Club. This event is presented by Brugal and Mastercard.
Photos from the facebook page of Charly Alberti and Soda Stereo