This post is also available in: Spanish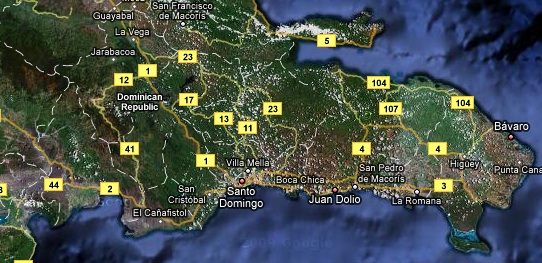 Google has added some roads to its map of the Dominican Republic, including some roads in Casa de Campo. While this may not be earth shattering news, it is interesting, especially when venturing out of the resort and exploring this beautiful country… or going to Jumbo.
If you've been living in Casa de Campo and have been anxiously waiting for this feature, you may be a little disappointed, as it is grossly incomplete. While it does provide some roads within the resort, this will not help anyone make it from their villa to the the Beach Club by Le Cirque at Minitas Beach. In fact, the satellite images that are being used are very outdated. For example, what can be seen of the Marina Casa de Campo is still the original Marina, before the start, let alone the completion, of its expansion. Heck, even the airport marker is located where the old Punta Aguila Airport used to be.
What is notable and helpful of the upgraded information is that the addition of many roads around the entire Dominican Republic. While we would strongly recommend taking any directions provided with a grain of salt, we can clearly see that the main arteries connecting the various areas of the country are correctly in place.
This is great news for the more adventurous people out there who could now theoretically use these maps to navigate from Casa de Campo to Santo Domingo, Bayahibe, Santiago, Punta Cana, Bavaro.
View Larger Map