This post is also available in: Spanish

Do your kids love soccer!? Well now in addition to the Golf & Tennis specialism being offered by the Golf & Tennis Academy at Casa de Campo this summer – there is also a Soccer option!
The Golf & Tennis Academy (GTA) founded by Juan Arteaga, Jr., and Marisa Farrell is Casa de Campo's first residential camp experience. Children aged between 10 and 16 years old, will receive expert instruction in golf or tennis – and now – soccer! In addition to their specialist sport, campers will also enjoy Casa de Campo's many other sports and activities; horseback riding, soccer, volleyball, swimming and more.
Children who choose to take part in the Soccer Camp will enjoy specialist instruction by Marco Cortez, an ex professional soccer player from Peru, who is currently a head coach for Pinecrest Premier Soccer coach in Miami, FL.
The Golf & Tennis Academy at Casa de Campo – starts this summer!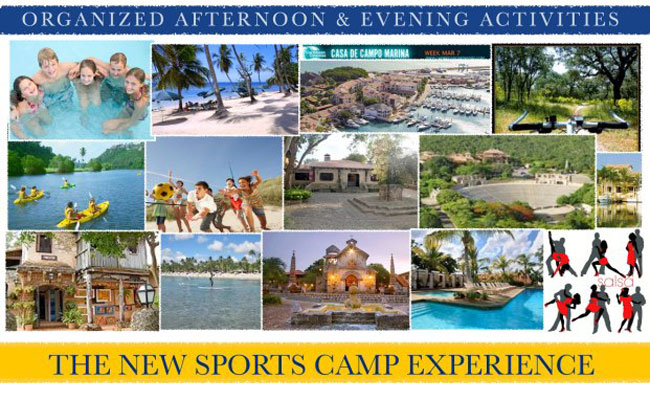 Camp options also include full-time adult supervision, lodging at the Pete Dye Golf Lodges, all meals, weekly laundry service, transportation around the resort and nightly activities. Campers will be treated to daily trail rides, Astronomy Night and outings to Altos de Chavon – the recreated Medieval European village and artists' community situated within the resort high above the Chavon River, where art, language and cultural classes are available from the prestigious Parson School of Design. Skeet and sporting clay shooting, as well as polo instruction will be offered based on each camper's assessed competency and interest in each sport. A special awards banquet closes out each session.
Daily non-golf activities include swimming (pool and ocean); beach time; soccer, volleyball, and other sports; movies; and access to GTA's on-site recreation center.
The details of the Golf & Tennis Academy summer camps are as follows:
The Golf & Tennis Academy (GTA) at Casa de Campo

Golf Camp
The Golf Camp features daily instruction under the direction of Casa de Campo's golf professional staff, including Eric Lillibridge, Director of Instruction at the resort's Jim McLean Golf School. Along with learning every part of the game (with a 5-to-1 student-teacher ratio) students get to play the famous Casa de Campo courses; Teeth of the Dog, Links and Dye Fore – 63 holes of challenging golf designed by legendary architect Pete Dye.

Tennis Camp
The Tennis Camp is for any young adult wishing to take their game to the next level. Expert instruction will be given by a team of USPTA-certified pros with a 4-to-1 student-teacher ratio. Group clinics will include hitting drills, serving skills, footwork, serve and volley and much more – which will be enhanced by match play everyday.

Soccer Camp
Instruction by Marco Cortez and his staff. Marco is an ex professional soccer player from Peru and is currently a head coach for Pinecrest Premier Soccer coach in Miami, FL.

When:

• July 14th to July 27th
• July 28th to August 10th
•  July 14th to August 10th

Where: Casa de Campo resort

Cost (2 weeks): 

Borders
• Golf Camp: US$3,200
• Tennis Camp: US$3,000
• Soccer Camp: US$2,800

Non-borders
• Golf Camp: US$1,600
• Tennis Camp: US$1,500
• Soccer Camp: US$1,400

Website: www.golftennisacademy.com [Website created by Silgon Inc.]

Contact: 305-793-3407, [email protected]