This post is also available in: Spanish
Delicious news my friends! Gino In Trastevere – everyone's favorite pizza and pasta restaurant is re-opening in Altos de Chavón this Wednesday the 12th of December!
Gino In Trastevere, who were voted as having the best pizza in Casa de Campo earlier this year are reopening from this Wednesday December 12th, and will be open everyday 12pm – 2:30pm and 7:30pm – 11pm (closed Wednesdays) – serving a delicious selection of traditional Italian "thin and crispy" pizzas – all made with the most delicious and fresh ingredients, as well as fresh and "al dente" pasta and a number of new meat and seafood dishes.
Although opening under new management, the owner of Gino In Trastevere in Altos de Chavón continues to be Claudio Angeloni, whose family have owned and successfully ran the Gino In Trastevere franchise of Italian restaurants in Italy and around the world for more than 100 years .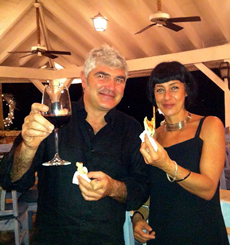 Re-opening with a new and enhanced menu, diners can expect to enjoy a delicious range of excellent quality dishes, such as Linguine with half lobster and Red Snapper or Mahi encrusted in potato or zucchini – as well as many of the "old" dishes we all came to know and love! Thrilled to see Gino's re-opening it won't be long before we tuck into some of our favorite "old" menu items – and no doubt some of the new additions too!
Your new hosts; Luciano and Federica (pictured right) look forward to meeting you soon.
Margarita pizza from Gino In Trastevere, Altos de Chavón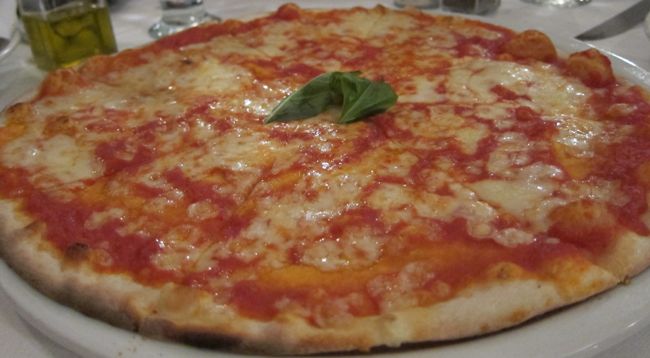 Gino in Trastevere

Gino in Trastevere is an authentic Italian restaurant located in Altos de Chavón, located on a lofty terrace with a panoramic view of the Chavón River and the famous Dye Fore golf course.

Gino in Trastevere Opening Times
Gino In Trastevere is open daily with the following schedule:
Lunch: 12pm – 2:30pm
Dinner: 7:30pm – 11:30pm
(Closed Wednesdays.)

Reservations: (809) 951-1897,  [email protected]com