This post is also available in: Spanish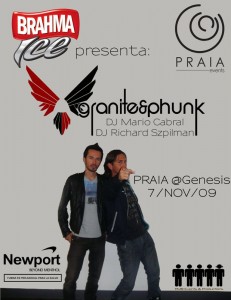 This Saturday the 7th of November Praia will be hosted yet another party at Genesis nightclub in Altos de Chavon, Casa de Campo. This exciting event, called 'Graphite & Phunk,' presented by Brahma Ice, will feature special guest DJ's: Mario Cabral and Richard Szpilman.
There are already nearly 500 confirmed guest for this event – on Facebook of course, so if Facebook is anything to go by, it should be a good night!
For their Facebook event, click here.
Cover charge: RD$1000
For more information or to reserve your own table call: 809-732-0230