This post is also available in: Spanish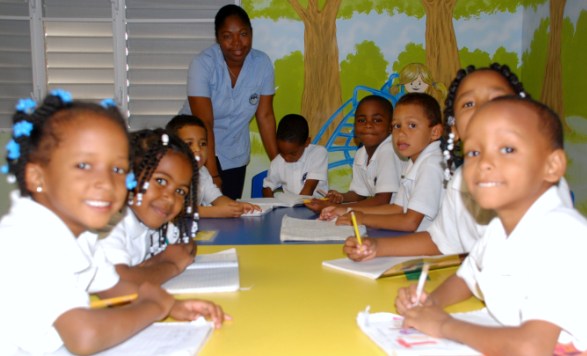 The Fundacion MIR hosts lovely parties twice a year for their children…  and that is all I really knew. At some point I do remember driving past one of their schools, and since the information on their wall mentions they offer baking classes it definitely got my attention, so it stayed on my radar for a while, luckily Rebecca Hughes arranged a tour for me to ease my curiosity.
The tour of the facilities was directed by the delightful Maria Cristina Londoño, who recently joined Fundacion MIR but could have easily fooled me since she was so full of information about the school. This trip took me back to my school years at Colegio Bilingüe New Horizons in Santo Domingo, from students standing and greeting in unison all guests that arrive in the classroom to lecturing a topic to fellow students, through a power point presentation with handy little notes (which would get me SO nervous I would nearly loose my voice every single time).
Their school is comprised of two separate campuses, Politecnico Fundacion MIR (all girl's school) and Politecnico MIR Esperanza (all boys' school) on a much larger complex which also houses the elementary school for boys and girls combined. Together there are about 1000 students that benefit from the nonprofit organization, allowing these children to have the same level of schooling wealthier children their age would enjoy.
Escuela Tecnica Vocacional Fundacion MIR – The Girls' School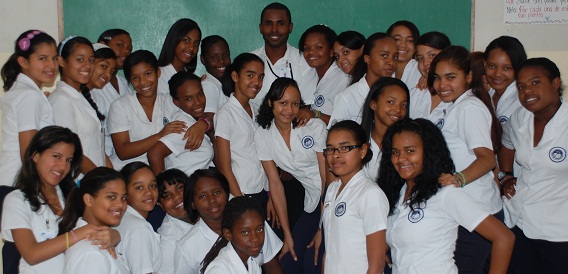 The girls are involved in activities that allow them to become well-rounded ladies with seamstress, bookkeeping, hospitality, nursing and culinary arts classes, in which they choose their area of concentration once they complete 10th grade. An interesting initiative they have at the school is the 'Pesos MIR program', an incentive program; the children read books and write book reports to earn "pesos",  they also help tidy up the school, help with extra projects any of the teachers or nuns may have, help a fellow classmate with homework – really anything additional they do that has a positive impact helps them earn MIR pesos.  With the MIR pesos they can purchase special items in the Pesos MIR Store!
the interesting bits I learned about this school is that the girls are assigned areas of the school's back yard they must sweep in exchange for MIR pesos which enables them to be more environmentally conscious.
MIR Esperanza – The Boys School

At the boys school I noticed their large green areas, and mentioned to Maria Cristina that as a New Yorker these children may never understand how privileged they are to enjoy fresh air and nicely manicured lawns which are a luxury that not many can come by. The Fundacion MIR provides these children with not only an excellent all-round education, providing them with all the skills they need to leave school and have a successful fulfilling life, but the children are also provided with resources, food and transport.
At this school the boys specialize Electrical and Refridgeration Training, and starting from next year the boys will be able to study culinary arts at a new culinary school, sponsored by Citibank  and auto-mechanics.
In fact the Mechanical School, sponsored by Autopista del Coral has already been inaugurated – ready for the start of the new school year.
The Primaria MIR – The Primary School
In the same campus where the boy's school is housed there is a lovely and very colorful elementary school with small classrooms for the young ones which opened up last year with beautiful new classrooms, school supplies and the many smiles and open young minds of the lucky children who were given the great opportunity to study at the school.
Click here to read about the inauguration of the Primaria MIR.
For more information and to make a donation, visit the Fundacion MIR website:
http://www.mirinternational.org/
Article written by Jhosmarty Castillo and edited by Rebecca Hughes.
Remember the Fundación MIR's annual summer fundraising activity the 'Family Weekend for Life' is taking place soon on Saturday August the 13th, click here to find out more and support this great cause!