This post is also available in: Spanish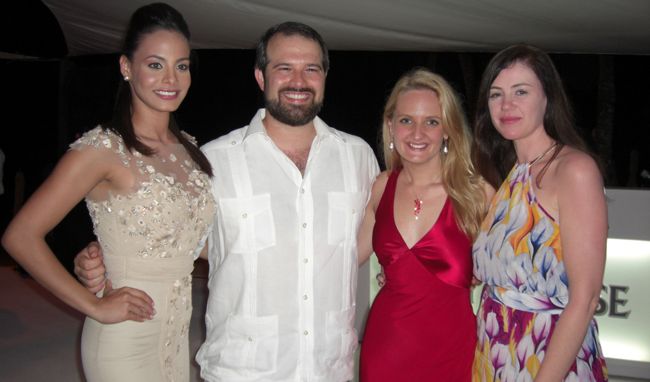 This Saturday the 19th of January the Fundación MIR will be celebrating their 22nd annual Magical Splendor for Life fundraising event – and to entice the younger crowd they have just announced "Junior Tickets" for under 35's at US$150.
So if YOU (or someone you know) are 35 years old or younger – this is your chance to contribute to a beautiful cause and enjoy a fabulous night out at the magnificent Casa Grande. For just US$150, "juniors" will enjoy cocktails (open bar), dinner, the Badgley Mischka fashion show and after party with Miam's DJ Gringo. (Please note that the special price of US$150 only applies to advance sales – junior tickets on the door are priced at US$200 per person.)
AND this year with the absolutely stunning Miss Dominican Republic, Dulcita Lieggi Francisco taking part in the fashion show – even those males with no interest in fashion will have something to enjoy during the fashion show! (Click here for photos and to find out more about Dulcita's participation.)
We look forward to seeing you there!
Magical Splendor for Life by the Fundación MIR: Sat. January 19th

Golf Tournament
When: Saturday 19th of Januray, 1pm
Where: La Romana Country Club
Cost: US$200

Fashion Show Gala
Presented by Tiffany & Co., featuring the Mystery Blue Boxes, Miss Dominican Republic Dulcita Lieggi Francisco and designs by Badgley Mischka
Emcees: Sofia Lachapelle and Anthony Alvarez
When: Saturday 19th of January, 8pm
Where: Casa Grande, Casa de Campo
Cost:
• "Silver" ticket: US$300 (per person)
• "Gold" ticket: US$500 (per person)
• "VIP" ticket: US$1,000 (per person – includes golf tournament)
• VIP table for 10 people: US$7,500
• Pre-sale Junior tickets: US$150 
• Junior Tickets on the door: US$200 

Get your tickets now!
For more information, please contact the Fundación MIR at (809) 523-8270 or (561)366-5095
The Magical Splendor for Life Gala and Fashion Show 2012

The 21st annual Magical Splendor for Life fundraising weekend took place on Friday and Saturday the 27th and 28th of January with a fabulous gala and fashion show by Badgley Mischka, a golf tournament and exclusive VIP dinner.

Click here to read more about this glamorous event in Casa de Campo!