This post is also available in: Spanish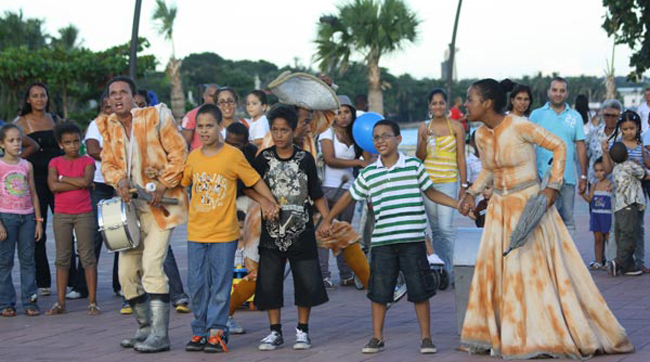 This Friday December 14th at 6pm, the "Teatro Rodante Dominicano", Dominican street theater directed by Prof. Carlota Carretero, will be in Altos de Chavón performing "El General Don Gallo"  – and you and your family are invited to join in this cultural activity – with colorful costumes, live music and dancing, as well as the participation of you and your little ones!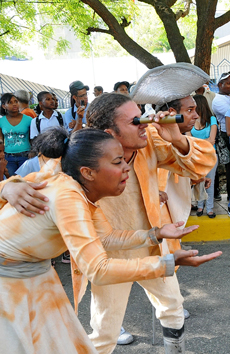 The show will beginning  with a march from the "Fish Fountain" and will lead all around Altos de Chavón – with the actors appearing as if by magic on the cobbled streets, announcing their arrival with loud music, instruments and cheers! In a type of merry parade the group will dance and sing across the stones, gathering a crowd as they go – leading everyone to the plaza outside the Altos de Chavón Regional Museum of Archeology, where the play will begin!
Outside the Altos de Chavón Regional Museum of Archeology, everyone will enjoy a lively rendition of "El General Don Gallo", a street theater adaptation of a short story written by Prof. Juan Bosch, one of the Dominican Republic's most prominent published authors – highlighting the rescue of Dominican folk traditions, guaranteeing it to be lively – bursting with the Dominican spirit for celebrations and music!
This, like many of the activities of the Altos de Chavón schedule of holiday activities is being sponsored by the Ministry of Culture of the Dominican Republic.
Also taking place on Friday evening the 14th of December is the "Parranda Típica Dominicana", a type of procession around Casa de Campo with visits to the doorsteps of friends and neighbors – who will be surprised with Christmas songs and music – like the Western tradition of "Christmas Carolling", but with Dominican music and instruments! Click here for details!  This activity will end in Altos de Chavón where the typical Dominican Perico Ripao (folk music band), the "Hermanos Zorilla" will perform.
Don't miss any fun event! Check www.todo.fm for the full calendar of events and activities!
"El General Don Gallo" by the "Teatro Rodante Dominicano"

When: Friday December 14th, from 6pm

Where: Around Altos de Chavón and in front of the Altos de Chavón Regional Museum of Archeology

Cost: Complimentary