This post is also available in: Spanish
It's been in the works for a while now, and finally we're able to tell you, It's Open!! After many successful years in Altos de Chavón and Sosúa, Fresh Fresh Café has launched a new location in the hub of the Dominican Republic. Located in Santo Domingo, on Calle Victor Garrido Puello off of the Abraham Lincoln, Fresh Fresh Café boast a gorgeous setting and healthy retreat to all who enter. Join them TOMORROW NIGHT for their official opening celebration!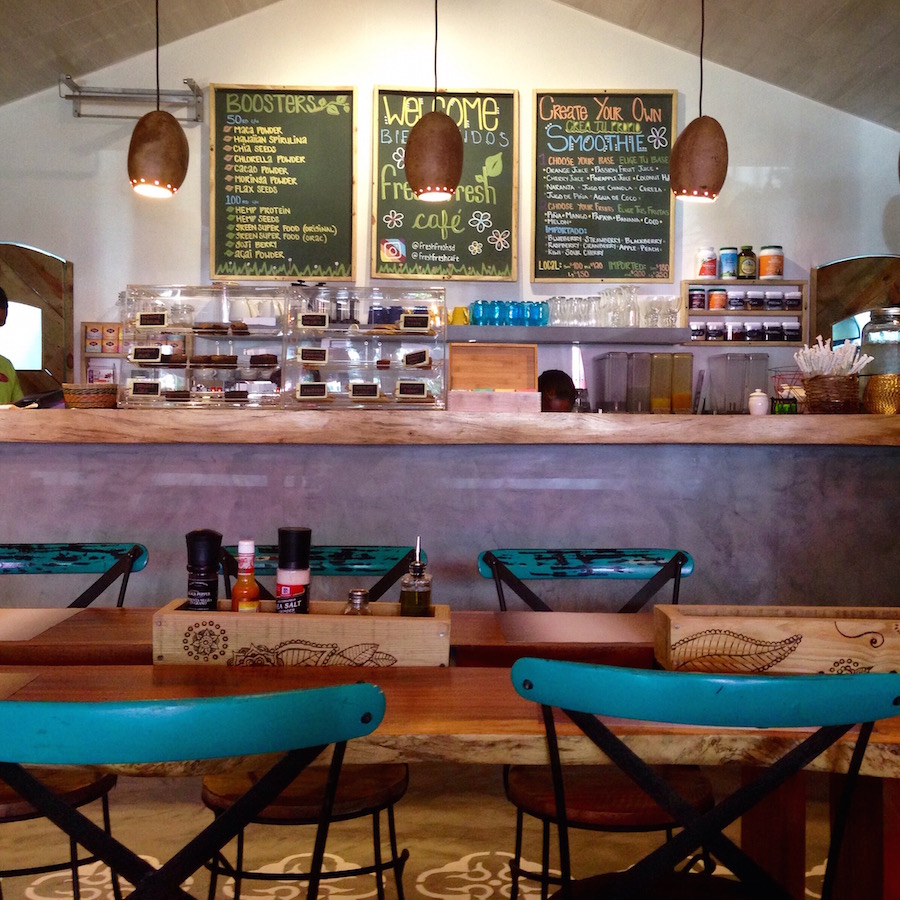 After following their Instagram account for quite a while monitoring their construction and countdown, I popped in last Saturday for their "soft opening". Especially hot as it was in the city, and having just returned to the humid Caribbean from a few weeks in the states, I found Fresh Fresh Café to be a cool escape. Sheltered by a bamboo roof, it first offers a shady dining spot outdoors complete with its classic earthy Chavón vibe. Peace and Love is a theme throughout, as is promoting their healthy dining options.
Inside, you don't have to look too hard to find an appealing fresh choice. With loads of boosters and smoothie options written on a blackboard, it'll be easy to create your own blended snack. Their menus offer descriptions of exactly what's included in each dish or drink, and you'll be hard pressed not to want to try them all. (I recommend the "Berry Berry Good" smoothie. True to its name, it is very good, plus high in antioxidants!) Keeping their exact menus from their original location, you'll find all your old favorites.  
Fresh Fresh Café celebrates their official opening in Santo Domingo with live music by La Tribu de Ayiti Quisqueya and fresh food and smoothies TOMORROW NIGHT, Wednesday July 13th starting at 7:30 pm! Come join the fun and see everything their new spot has to offer!
Fresh Fresh Café Santo Domingo

What: Official Opening Party

When: Wednesday, July 13th at 7:30 pm

Where: C/ Victor Garrido Puello, intersection with Abraham Lincoln, Plaza LMP

Tel: 809.373.1773

Hours of Operation: 8 am – 10 pm