This post is also available in: Spanish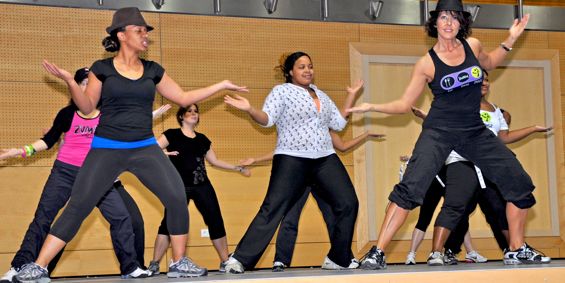 Zumba the dance/aerobic craze is coming to Casa de Campo….tomorrow!! 
Zumba, Zumba, Zumba……everyone is talking about Zumba, it's sexy, it's fun and it gets you fit! What's not to love about this new exercise craze!? Zumba is essentially a type of exercise which incorporates all the best of latin dance; Cumbia, salsa, merengue, mambo, flamenco, cha-cha-cha, Reggaeton, samba, belly dancing, Bhangra, hip-hop, and tango.
Each Zumba class is similar to an aerobics class in that you follow a routine led by an instructor, the difference is that the moves of the routine come from popular latin dances – if like me, you're a fan of latin music already, chances are you'll already be familiar with the music and you'll probably already know at least some of the dance moves.
To read more about Zumba, click here.
Free Outdoor Zumba Class!
When: Wedbesday, 23rd of March
Time: 5pm
Where: Cafe Juanita, Marina Casa de Campo
Cost: FREE
What to wear: comfortable sport/exercise clothes and tennis shoes
Bring with you: a bottle of water and a towel
Who can go: Everyone over the age of 12 is welcome to take part!
Level: Everyone – this class is really aimed at beginners, but if you've done Zumba before you're more than welcome to come along!
Marisabel and Fefi, Casa de Campo locals and Zumba fanatics are organizing this free zumba class to familiarize the Casa de Campo community with this great new type of exercise – so that they can start running weekly classes! Fefi assured me that once you try it – you'll be hooked and having watched a few videos from Youtube…I think I'm already addicted – they make me want to go home and practice!!!
This video is of a Zumba 'display' – demonstrating what Zumba is…it's amazing!!

This video is a great introduction….its shows you the basic Zumba steps and how to do them!!! I am now dying to go home and give it a try!