This post is also available in: Spanish
At the heart of Altos de Chavón is the School of Design, graduating students with expertise in the fields of Fine Arts, Illustration, Graphic Design, Fashion Design, Interior Design, Photography, Film Production and Architecture. It comes as no surprise Chavón is deemed the "artist's village". Students go on to form extraordinary careers locally and internationally, and we love to celebrate their success stories. Last Thursday evening, July 21st, Gustavo Peña, graduate in the class of 2006, who went on to UNAM in Mexico as an Art Major with a concentration in Mural painting, showcased his first solo exhibition in the Lyle O. Reitzel Gallery in Santo Domingo.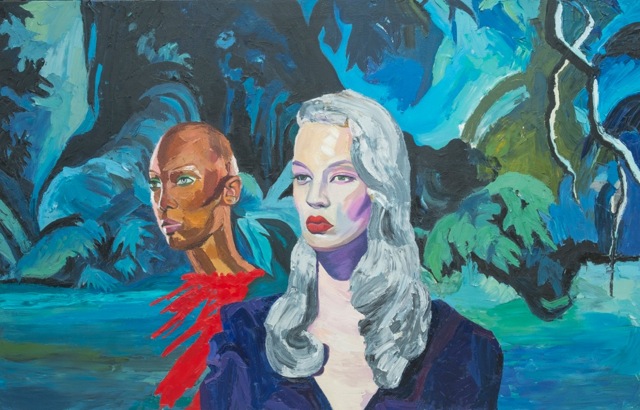 Supportive friends, family, and colleagues came to celebrate the well-established artist whose pieces stand in permanent collections in Fundación Cortés in Puerto Rico and private collections in the Caribbean, United States, Europe and China. With numerous recognitions under his belt, it was a privilege to see his most recent work, which is up on display in the gallery through August 30th, and speak with the artist in person.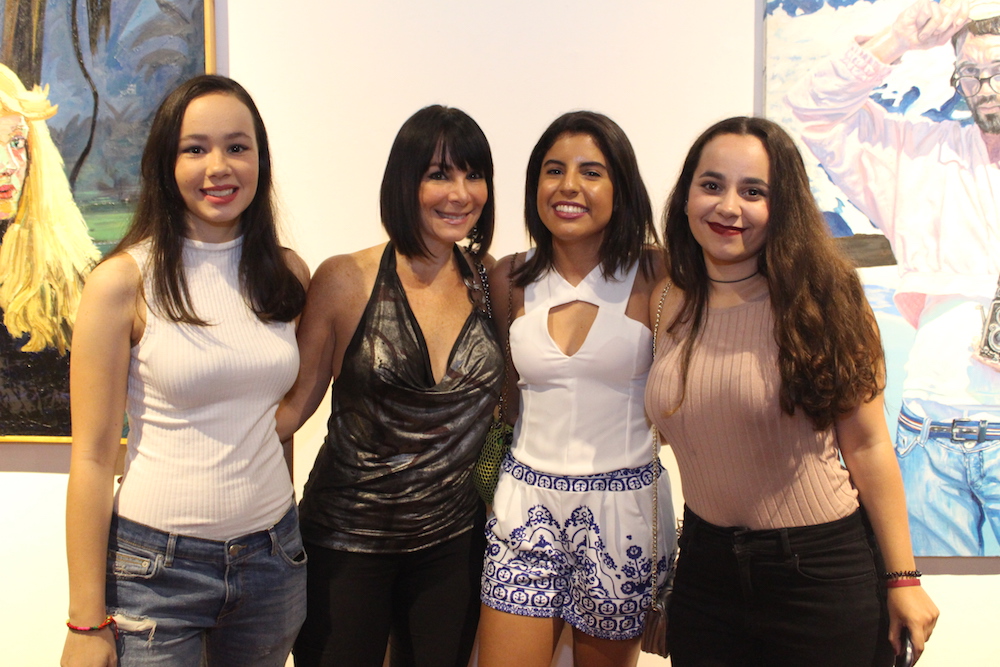 "Unknown Adventures" is comprised of paintings, photography and drawings, produced between 2010-2016, whose colors boldly communicate the artist's direction toward geometric expression. Often combining the surreal with reality, viewers are prompted to invent their own meaning behind the work. As imaginary as Gustavo was when drafting his creations, he equally wanted to intrigue spectators with their own interpretations. Such was the case for the painting, "Unknown Adventures" describing it as a Freudian concept with a broad interpretation: "Everyone has a different end to the story, that's what I like."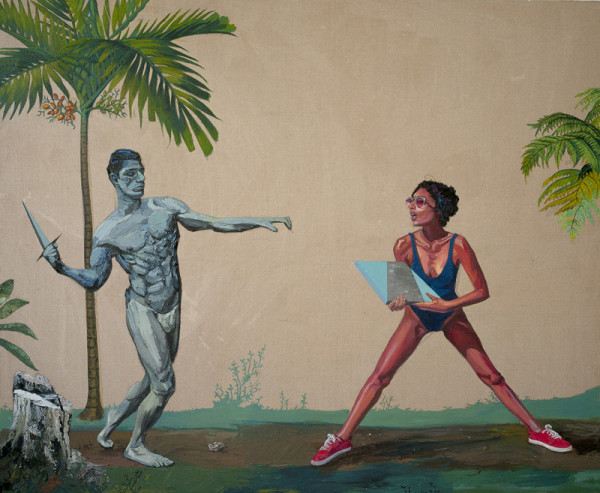 One of my favorite concepts Gustavo Peña did was pull together excess paint leftover from his work in this series and instead of throwing it out he conjured up, "Abstract Experiment." This stand-alone piece which appears independent from the rest of his collection can, in a way, be seen as a complete embodiment of them all. See our photos below and the full collection in person at the Lyle O. Reitzel Gallery in Santo Domingo.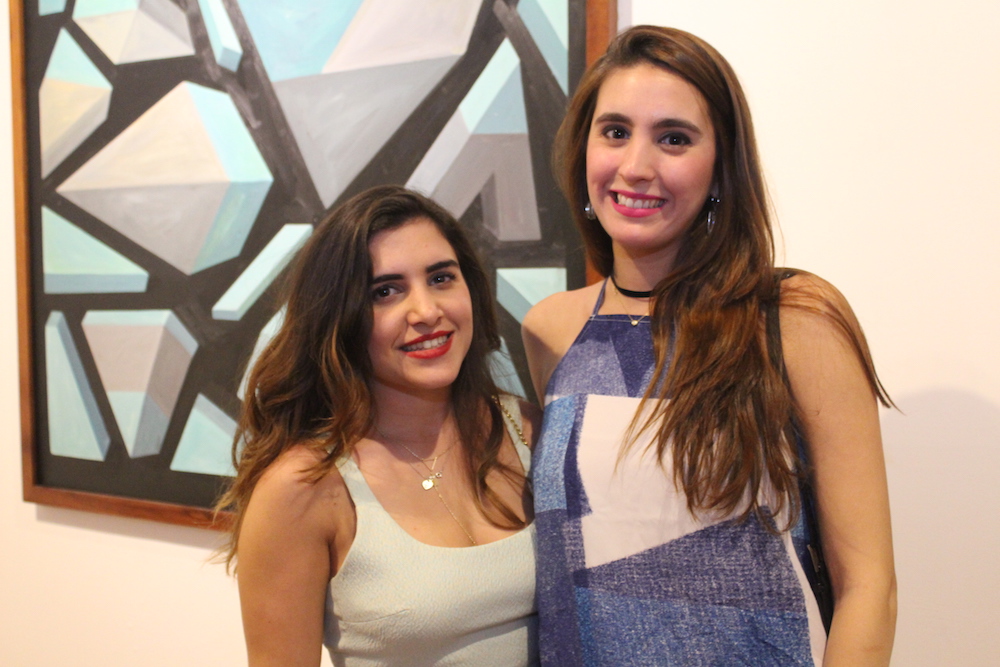 The following photos were taken by Elvis Tejada Thursday, July 21st at the opening of Gustavo Peña's exhibition "Unknown Adventures":
Gustavo Peña was born in Santo Domingo in 1979. Studied Fine Arts, Graphic Design, Illustration and Photography at  Altos de Chavón School of Design (ASS) La Romana, Dominican Republic. Graduated from Escuela Nacional de Artes Plásticas (ENAP) de México. In 2010 Peña was Awarded with highest prize with his piece "Hasta la Victoria Siempre" by Biennial Centro León Jimenes, Santiago, D.R. And another shows all over the world as "Under Construction", William Road Gallery, London; "On Common Ground," Washington, USA; Global Caribe, Little Haiti Cultural Center, Miami, USA y Caraïbes, Muséed'Art Contemporain (MAC) San Juan, Puerto Rico; "Super Heavy" y "Estética Sold Out" in Lyle O. Reitzel, Santo Domingo, D.R.; Global Caraïbes, Focus sur la creation contemporaine caribéenne, Musée International des Arts Modestes, France; "Global Caribbean Project" during 'Art Basel Miami Beach 09' curated by Edouard Duval-Carrié, Little Haiti Cultural Miami, USA y Borderless Generation: Contemporary Art of Latin America, The Korea Foundation Cultural Center, Seoul, Korea and in 2016 " Trans/Figure", Cortés Collection, Universidad de Cayey, Puerto Rico.

His pieces are part of Permanent Collections as Fundación Cortés de Puerto Rico and private collections in Santo Domingo, Puerto Rico, Panama, Miami, New York, Switzerland, Italy and China. Currently works and lives in Santo Domingo.
LYLE O. REITZEL GALLERY

In 1988, Lyle O. Reitzel began his career as art merchant, promoting a select group of underground Contemporary artists, not represented in the market, presenting an avant-garde and daring aesthetic proposal, where the new, the strange, and the extravagant could be appreciated.

The Lyle O. Reitzel Gallery opened its doors in Santo Domingo in 1995 and has, since then, focused its efforts on supporting the new art trends of the Dominican Republic, Cuba, and the Caribbean, including Latin America and the rest of the world.

The gallery set out on a great adventure, to open new doors, and between 2006 and 2010 become an important zone of artistic development devoted to Contemporary Art, the Wynwood art district in Miami This step is the result of the dynamic action practiced by the gallery for more than a decade in Santo Domingo, supported by the systematic organization of exhibitions in galleries and museums of great capital cities around the world, as well as by the participation in important international fairs, delivering enough to get inserted into today's active and ever-growing international market.

Gallery Hours of operation:  

Monday – Friday 9:00 A.M. – 2:00 P.M. and 3:30 P.M. – 6:00 P.M.

Saturday 11:00 A.M. – 3:00 P.M.

Contact:

Tel: 305 510 2833

Email: [email protected]; [email protected]

Website: