This post is also available in: Spanish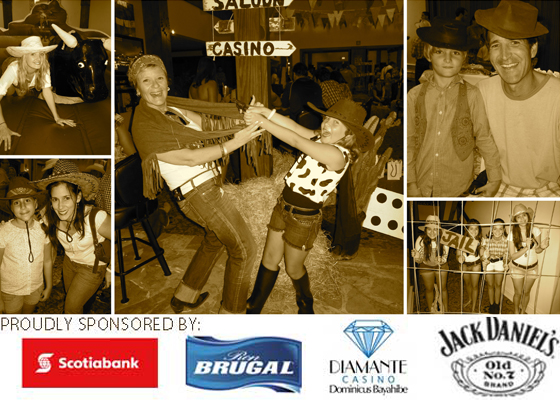 Yeeehhhaaaawwww! The Hoedown took place last Saturday the 2nd of July and was a success beyond everyone's wildest expectations! More than 500 cowboys and cowgirls of all ages turned out in their best Western gear and enjoyed the party (the bull, music, dancing, talent show, BBQ, casino and drinks) so much nobody wanted to leave! 
The Second Annual Hoedown, Saturday July the 2nd
A wild and western tale of lumberjacks, cowboys, saloon 'ladies', a toro loco and Dominican country band in the Casa de Campo Flamboyan Conference Centre……..
Welcome to the Wild Wild West!
Families flocked into the conference centre: The party started at 4pm and by 5pm it was packed!
Chillin' in the barn!
Welcome to the Hoedown! These cowboys relaxed around their haystack, enjoying a few Jack Daniel's cocktails, whilst they waited for the poker tournament to start.
Go straight to JAIL!!
Despicable bandits Tiffany, Daniela, Gladys and Cristina get thrown in jail!
Standing room only!
Cowboys and cowgirls enjoy the hustle and bustle in the main saloon!
Ride 'em Cowboy!
Many tried and many failed to tame the wild and ferocious "toro loco"!! Yeehhheaaaaaawww!
Black Jack in the Barn!
Hit me sheriff! Cowboys and cowgirls play Black Jack with the Casino Diamante Dominicus Bayahibe

Jackaritas for the chicas!
The Jack Daniel's Saloon bar served an endless supply of Jackaritas and Jack n Coke for the over 18's
Stick 'em up!
Sheriff Silvestri took care of the bandits and villans!!
Cotten Eyed Joe!!
The talent show winners, Leticia, Adriana, Frances, Rita and Camila line-dance to Cotton Eyed Joe!!
This event was sponsored by Jack Daniels, the Casino Diamante Dominicus Bayahibe, Ron Brugal and Scotiabank! Many thanks to our sponsors who made this event possible and thanks to YOU, our Casa de Campo Living community who came and enjoyed and made it the great success it was!!!!  YEEEEHHHAAAAAAAWWWW!!!