This post is also available in: Spanish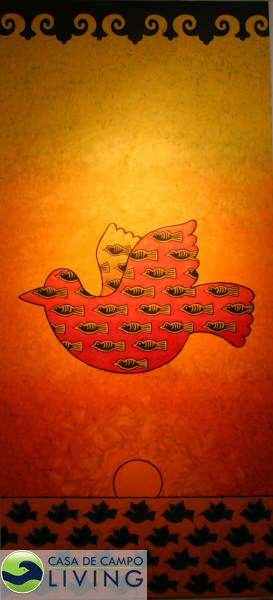 Recently, Fernando Tamburini, graciously invited me into his art studio for a drink, a chat and of course to view his beautiful paintings. Fernando has many clients in Casa de Campo and his work is proudly displayed in many of Casa de Campo's grandest villas, so it was a delight for me to see where this genius works and to see his work for myself.
Fernando Tamburini is originally from Barahona and moved to La Romana in 1994, where he lived and worked in Altos de Chavon in Casa de Campo as an art teacher and later as the Director of the Altos de Chavon Art Gallery. He recently displayed his work in the Altos de Chavon main art Gallery as part of the Exposicion Colectiva de los Artista Domincanos.
We met in his studio, which is in the town of La Romana. As I was arriving Tom Wahl, the Director of the La Romana Country Club was just leaving, having just picked up one of his paintings – such a small world and a good example of one of the many Casa de Campo villa owners who consider themselves Tamburini aficionados! As soon as I began looking around I knew that I had instantly become a Tamburini aficionado too, its easy to see why his work is so popular – Caribbean scenes with bright, bold vivid colours and striking surreal symbols, which perfectly reflect the fun Caribbean lifestyle, we all love to live!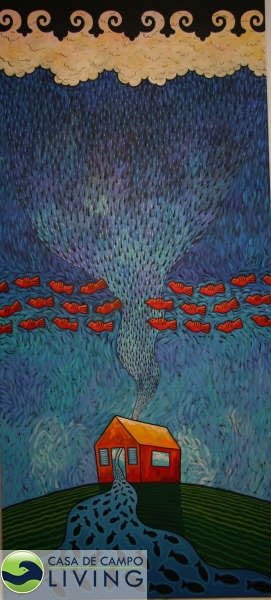 Fernando takes his inspiration from his favourite artists; Matisse, Picasso, Miro and Dali, who all take an abstract approach to paintings. Fernando doesn't like to paint reality he says "If you want something real – take a photo!" His art work most often features objects as symbols, such as the house, which symbolizes security and females and roses which symbolize purity and wholesomeness. Fernando says, "In my paintings I talk about life."
Before moving to La Romana, Fernando lived in New York, where he worked as a textile designer, as well as painting in his spare time. Influenced by western culture and the less-than-exotic lifestyle in New York, Fernando's paintings were much less vibrant than they are today – with browns and grey's and generally 'earthy' colors. When Fernando first arrived in La Romana he continued to paint in the same style, until a collector told him that although he liked his work, it was too dull! Fernando says "This comment really affected me and I decided to start using vivid colours, and the first 3 I painted sold within hours of me displaying them – I have never looked back!" It seems we have a mysterious foreign collector to thank for Fernando's distinctive and colorful style which we know and love!
If you would like to visit Tamburini, his studio is on Calle Castillo Marquez, number 45b, on the corner near to Trigo de Oro. You can call Fernando on 809-609-1932, to arrange an appointment or just drop by his studio next time you're in La Romana!
Do you own a Tamburini? If you are a Tamburini aficionado, we want to hear from you – send us your pics of your paintings in your house and feel free to make any comments below!
Want to be in Casa de Campo Living? If you would like to meet up with me and tell me about yourself and an interesting project you are doing/have been involved in – feel free to email me on [email protected]