This post is also available in: Spanish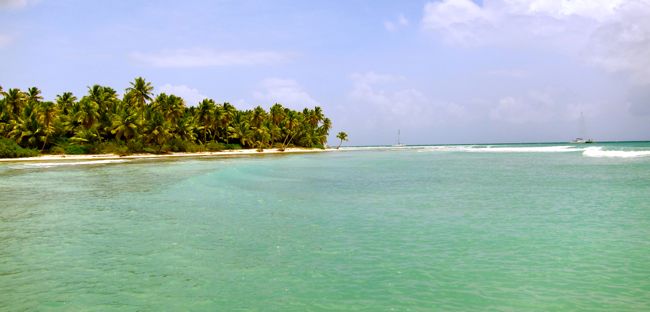 During my last 4 years in Casa de Campo (wow I can't believe it's been so long already), I have been lucky enough to visit many beautiful tourist attractions across the Dominican Republic, but unbelievably had never been to Saona Island. So when my parents came for a visit recently, the 3 of us set sail to Saona Island to discover this local beauty spot and find out exactly why it's one of the most popular tourist destinations in the entire country! 
We chose to go on the "Catamaran to Saona Island" excursion by Viva Diving and Excursions in Dominicus – Bayahibe, as the web design division of our company, Silgon Inc., were working on their new website, (which has now been launched and is awesome by the way – click here to view it) and having never been on a "hotel excursion" we were very pleasantly surprised.
Me and mum relaxing on the catamaran on the way to Saona Island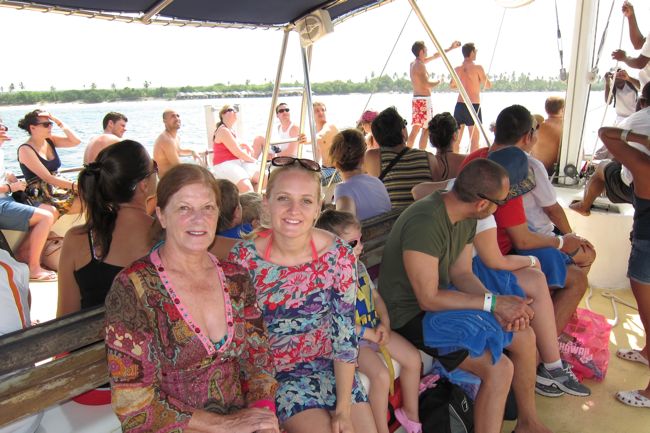 And so we set sail in a catamaran filled with a fun group of tourists! The journey started off calm and relaxing enough – as me and my parents chilled out in the shade and watched the coastal areas of Dominicus float by, whilst most of the other tourists on board jostled for prime sunbathing spots on the front of the catamaran!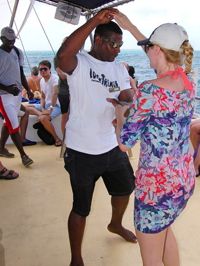 But then…..less than an hour after our (9:30am) departure, the Dominican rum made it's first appearance and after just a little resistance, my father and I decided to join in the fun and started our day sipping on one of the Dominican Republic's most popular cocktails; rum and coke – and why not we were on vacation after all! And after just one or two cocktails, I even got into the vacation spirit with a little Dominican Bachata dancing with the on-board "animadores" (entertainers), before we arrived at our first destination – Palmilla.
Ah, Palmilla…..one of my favorite places in the world! Palmilla, a natural sand bank is not only a popular tourist destination, but is also a popular party destination for yachts from Casa de Campo (especially on New Years and during "Semana Santa" Easter week – click here for photos.) On this particularly day however it was pretty quiet – the perfect spot for a quick dip in the crystal blue waters and some one-on-one time with the giant starfish.
Tourists playing with the starfish at Palmilla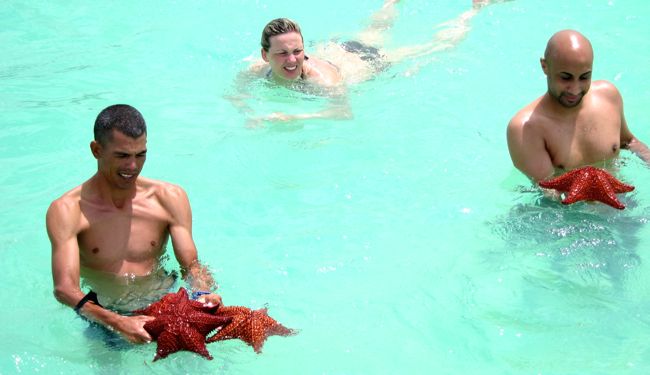 Next stop was Saona Island, which is as beautiful as everyone always says it is; with white sand beaches lined by palm trees. Upon arrival we first took a short stroll through the forest of palm trees and then arrived on Viva's private beach, where we spent the next few hours relaxing, drinking, swimming in the sea, posing for photos and eating lunch – which was a surprisingly varied buffet.
But sadly all good things must come to an end and before we knew it we were back on the catamaran heading home!
The following photos were taken during our day trip to Saona Island:  



Saona Island and the Parque Nacional del Este  

Saona Island is located within the Parque Nacional del Este national park, located on the South-East coast of the Dominican Republic, to the East of Casa de Campo and La Romana. The expansive 310km2 area made up of Subtropical Rainforest and Subtropical Dry Forest,  has 112 different bird species and even dolphins and marine manatees.