This post is also available in: Spanish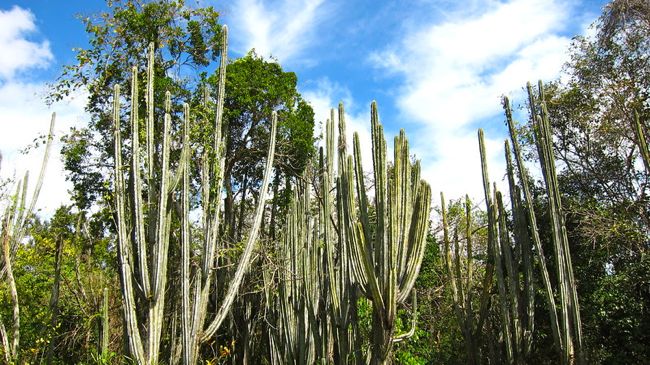 Having lived in Casa de Campo and the Dominican Republic for more than 4 years now, I thought it was about time I get to know the country a little better – and what better place to start than Bayahibe? And so with my explorer's hat on and accompanied by my trusty side-kick Philip Silvestri, we set off to Bayahibe – to see what we could see!
[Since the opening of the new Autopista del Coral highway between La Romana and Punta Cana, Bayahibe is now less than a 20 minute drive from Casa de Campo – so there is no excuse not to get out and explore!]
If you have ever read a guide book for La Romana or Bayahibe, you will have inevitably read about the beautiful "Parque Nacional del Este" (the National Park of the East) – most famous for it's white sand beaches at Saona Island, but did you know you can visit the national park on foot – at a place called "Padre Nuestro". 
We decided to visit Padre Nuestro one Saturday morning before heading to our favorite Bayahibe restaurant – El Cafecito de la Cubana, and we liked it – it's a simple trail through the national park, and whilst it is nothing out of this world – wee did see some nice scenery, whilst also learning some interesting facts about the park. 
The following is a guide to everything you need to know about visiting Padre Nuestro:
Padre Nuestro 

"Padre Nuestro" is a small area in the Parque Nacional del Este, located close by to the tourist areas of Bayahibe and Dominicus. Originally "Padre Nuestro" was a small village of 180 families who survived by hunting pigs, beekeeping and producing coal, however in 2003 the community was relocated outside of the National Park area and "Padre Nuestro" became a conservation center, where today visitors can take a 1.9km trail through the indigenous forest and discover a number of caves with underground lakes and Taini carvings and petroglyphs.

An enthusiastic and knowledgeable Dominican Spanish-speaking guide will lead you on an exploration of the park, where you will discover:

• Indigienous flora and fauna such as the Gauyiga plant, a root vegetable the Taino indians used to make bread.

• "El bosque de cactus" – a landscape of towering cacti, many over 20ft tall.

• A charcoal site – a replica of the primitive ovens once used by villagers to produce coal, a practice which is now prohibited in the National Park.

• "La cueva de chico" – a cave and underground lake where petroglyphs created by the Taino indi- ans can be seen.

The following photos were taken on our stroll around Padre Nuestro: 




Open daily: 9am – 4:30pm Entrance fee: RD$200 per person (price includes the guide, however a tip is recommend.)

TIP: Wear long pants with sturdy shoes/sneakers and don't forget your camera!
Getting to Padre Nuestro:


When you leave Casa de Campo resort turn right as if you were heading to the Casa de Campo – La Romana airport and join the new Autopista del Coral highway. Once on the highway follow the exit signposted "Bayahibe" – follow the winding road towards Bayahibe/Dominicus and after about 5-10 minutes the road curves sharply to the right, where you will see a big sign welcoming you to the area – to the left of this sign, on the curve is the entrance to Padre Nuestro.

The entrance to Padre Nuestro


Once you have turned into the entrance follow the dirt track straight down (don't worry it's not too bumpy) and you will come to a "check-point" where you will be asked to pay RD$200 per person for your entry, a little bit after that you'll arrive at the main car park, where you will find a rustic "welcome center" and you will be greeted by a guide. Then your adventure begins! You can choose to have a guide walk with you along the trail or you can go alone (it is signposted), however we do recommend going with a guide, the trail is not that obvious, you will learn a lot from your guide and the "tip" you will be expected to give him or her at the end will be very much appreciated!