This post is also available in: Spanish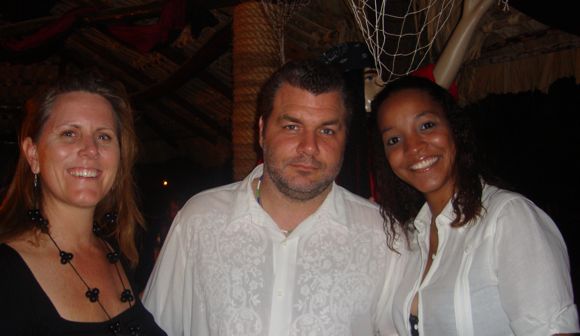 'Capitan Kidd' is the new kid on the block in Bayahibe! The new bar opened this past Friday night the 9th of October, and was a huge success!
'Capitan Kidd' is named after Captain William Kidd, one of the most infamous pirates in history, and the entire bar is completely decked out in pirate paraphernalia; several life-size pirate statues, pirate flags, pirate-esque furnishing and to complete the look off, all the bartenders and waiting staff were dressed as pirates, which to be honest was rather hot!
When we arrived, the bar was totally full and the atmosphere was fantastic, with a good mix of Bayahibe locals, some Casa de Campo residents and many Italians! As the drinks flowed and the 'pirates' brought around food samples, it was clear everyone was having a great time – it would be hard not to in such dynamic and fun surroundings.
As part of the evenings festivities there was a pirate-themed fire-eating show; a lady-pirate tickling her body with the flames, provocatively swallowing and blowing the flames into the audience and to end the spectacle a pirates head was set alight on the beach. Quiet a show!
Capitan Kidd is located in Bayhibe town, on the waterfront, next door to Mare Nostrum.