This post is also available in: Spanish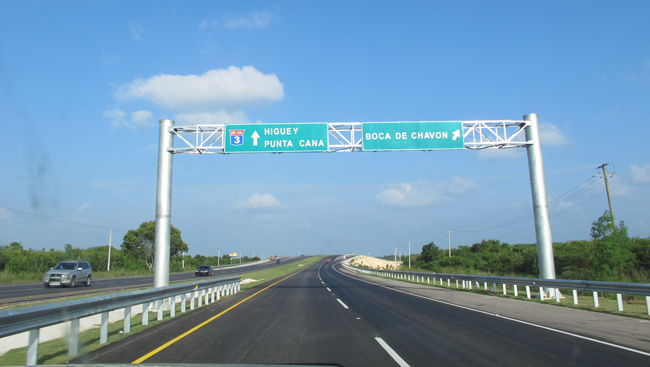 The "Autopista del Coral" highway between La Romana and Punta Cana was officially inaugurated and opened by former President Dr. Leonel Fernández on August 8th, 2012, making travel between the 2 tourist destinations much faster, efficient and safer. And so as quiet possible one of the most important and beneficially things to happen in the Eastern region of the Dominican Republic in recent years, here we bring you a brief summary of everything you need to know about this wonderful new road which overnight brought attractions in the area within easy reach of Casa de Campo.
• You can get on and off the new highway at:
– La Romana
– La Romana – Casa de Campo airport
– La Estancia Golf Resort (labelled exit "Boca de Chavón")
– The entrance to Bayahibe – Dominicus
– Near to Higuey
– At the Punta Cana International Airport
• New travel times! The following are the approximate travel times from the Casa de Campo main entrance:
– La Romana – CDC airport: 6 mins
• Bayahibe fishing village: 15 mins
• Dominicus town/ public beach: 20 mins
• Punta Cana International Airport: 45 mins
The Autopista del Coral on Google Maps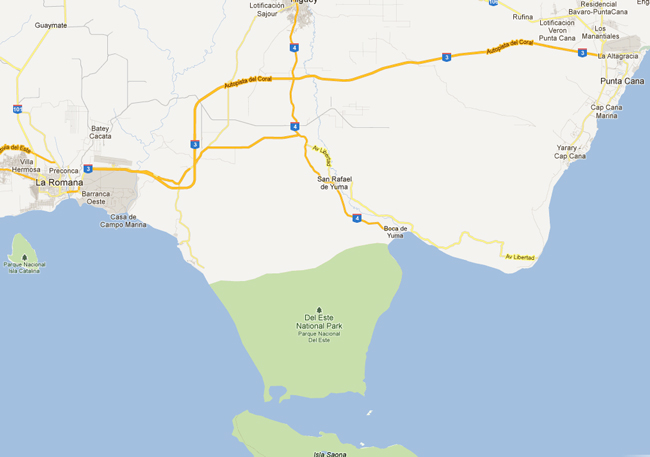 • There are NO tolls on the Autopista del Coral highway. 
Shortly after the highway was opened, new President of the Dominican Republic, Danilo Medina Sanchez announced that there were not planning on putting a toll on the road – to promote tourism throughout the Eastern region.
• The "Autopista del Coral" highway:
– has 4 lanes of traffic and is designed for cars travelling at a maximum speed of 110km/h
– is 70km long, which if driven at 110km/h has a travel time of just 24 minutes
– has 3 bridges, which cross over the Chavón, Santa Clara and Duey rivers.
The bridge over the Chavón river

As one of the most imposing and iconic components of the new "Autopista del Coral" La Romana – Punta Cana highway, here are a few interesting facts about the bridge  over the Chavón river:

• The bridge is 302m long, constructed from steel and cement slabs

• The bridge has 4 lanes of traffic (2 in each direction), as well as a pedestrian footpaths on each side and a central reservation

• The bridge was designed and constructed in accordance with the new "anti-seismic" code in the Dominican Republic – calculated to withstand the effects of earthquakes.
What about the highway from Santo Domingo?

As far as we understand the "Autopista del Coral" highway is part of a larger project called the "Corredor Vial del Este", which will eventually connect the capital city of the Dominican Republic, Santo Domingo with the Punta Cana International Airport, a 181km route, which will consist of 3 separate highways:

 1. "Autovia del Este"
This 97km route between Santo Domingo and La Romana is not currently being worked on, but major improvements have already been made over the past few years, including the opening of the new bridge over the Soco River.

2. "Circunvalación La Romana" – the La Romana bypass
This 14km route will take traffic around La Romana, rather than directly through the city – making travel from Santo Domingo to Casa de Campo, Bayahibe, Higuey and Punta Cana much faster, whilst also making the center of La Romana much less congested. The opening date for this has not yet been announced, but we have heard that it is expected to be ready in October of this year (2012).

3. "Autopista del Coral"
The 70km route between La Romana and Punta Cana – opening this Wednesday August 8th.

Details of the "Corredor Vial del Este", can be seen on the image below: