This post is also available in: Spanish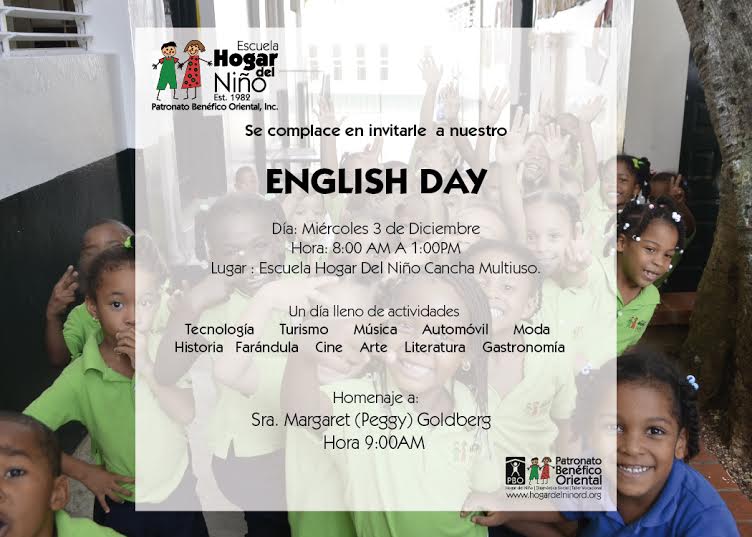 The Hogar del Niño never rests when talking about events and activities… and speaking about events their next one is an English Day!!
On Wednesday December 3rd (tomorrow) the Hogar del Niño's is having a fun English Day, were they invite you to be part of such incredible happiness, enjoying activities such as technology, tourism, music, automobiles, fashion, art and so much more!
As a tribute to Mrs. Margaret Goldberg, also known as 'Peggy', the Hogar del Niño body will show their appreciation to this remarkable woman.
Don't miss out on this amazing English Day and get ready to have FUN!
English Day and Tribute

Where: Hogar del Niño School, Sports Court

When: Wednesday, December 3rd

Time: 8:00 a.m. – 1:00 p.m.

Time for the Mrs. Margaret Goldberg Tribute: 9:00 a.m. 

Contacts: www.hogardelninord.org / (809)-523-3333 / Ext.8901
 The Hogar del Niño

The Hogar del Niño is a children's daycare and educational center for over 1500 children, located in La Romana town, just outside of Casa de Campo. Children from as young as just a few weeks old up to 18 years old are cared for and educated daily, from as early as 5:30am and staying as late as 7pm.

The organization also provides special schooling to over 75 hearing impaired and blind children, as well as a vocational school where over 235 students receive classes in different areas like: sewing; industrial preparation, installation and electrical maintenance; plumbing and management of computer office programs.

Contact the Hogar del Niño on:
Tel: (809) 523-8901 or (809) 556-3181
Email: [email protected]
Website: www.hogardelnino.com