This post is also available in: Spanish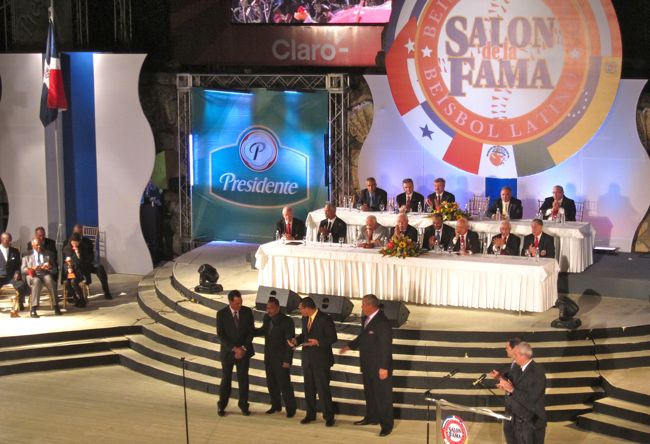 On Saturday the 11th of February, eight baseball luminares were recognized in the 3rd Grand Exaltation Ceremony which took place at the Altos de Chavón amphitheater with an overwhelming assistance and support from hundreds of baseball fans from the La Romana and Casa de Campo communities!
Following 2 evenings of celebratory events, including the inauguration of the new "Fan Cave" in the Marina Casa de Campo, a welcome dinner at the Casa de Campo villa of Roberto Wiell , the Honorary Chairman's dinner hosted by Alfy Fanjul at Casa Grande as well as the "Los Inmortales" golf tournament played on Saturday morning on the Teeth of the Dog, the Grand Exaltation Ceremony finally arrived and eight latin-american baseball players and Major League stars, were recognized as true legends.
The Latin Baseball Hall of Fame Comittee during the ceremony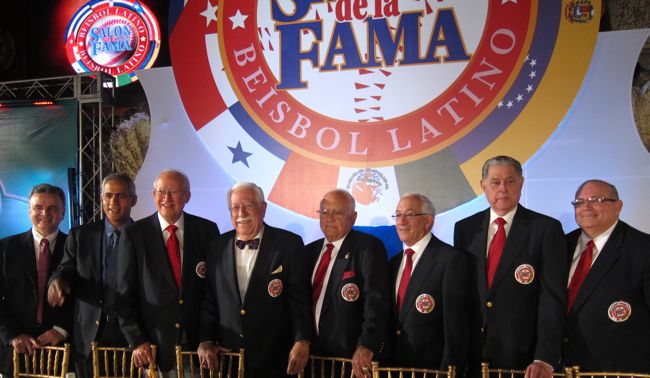 After Roberto Wiell's welcoming speech, the baseball stars Tony Peña, Many Trillo, Benjamín Oglivie, Bernie Williams, Tony Oliva, Aurelio Rodríguez, Domingo Pichardo and Luis Tite Arroyo, thanked their fans and family for their support as they received their awards. But it was Tony Peña, the Dominican baseball player who received a standing ovation from the large crowd attending the event, who turned out to see these famous baseball heros, who are well known for playing the Dominican Republic's most popular sport.
As special guests, famous Dominican baseball players, Pedro Martínez and Robinson Canó also enjoyed the celebration in the VIP area. There was also a tribute to the promoters Domingo "Monchín" Pichardo, past Seatle Mariners' general manager  and Pat Gillick,  who was honored with the "Tom Lasorda" excellence award.
Announcement
During the ceremony, Roberto Wiell announced that maybe this year the construction of the Latin Baseball Hall of Fame Museum may become a reality. According to Wiell, this will be constructed on land owned by the Central Romana Corporation.
Closure – Assistants dance to great merengue with Eddy Herrera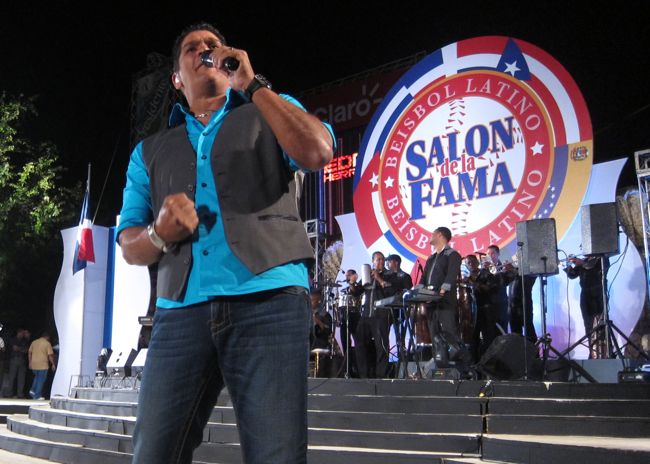 After the exaltation ceremony, members of the La Romana and Casa de Campo communities were delighted by the famous Dominican singer Eddy Herrera, who was in charge of closing the event and entertaining the audience with his well known songs and Merengue rhythms! Eddy Herrera was spotted earlier in the day participating in the "Los Inmortales" golf tournament held on Casa de Campo's Teeth of the Dog golf course – more about this (including an impromptu video interview) will be published soon!
Here we share a selection of photos taken at the 3rd annual Latin Baseball Hall of Fame Exaltation Ceremony in Altos de Chavon:
For PHOTOS and an overview of the entire "Salon de la Fama del Beisbal Latino" event – click here!