This post is also available in: Spanish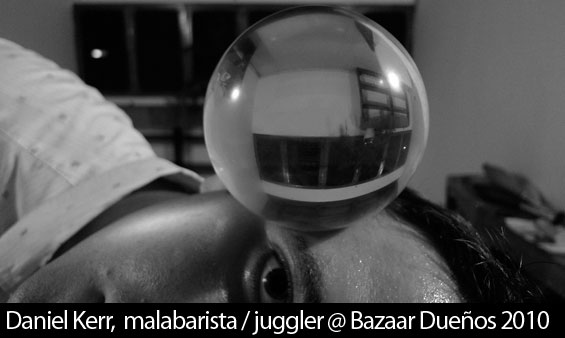 The Casa de Campo Living Bazaar Dueños 2010 on Sunday October the 10th, from 11AM to 7PM,  will be a day of fun and activities, as well as plentiful shopping, there will be LIVE entertainment such as a juggler, LIVE music from a Perico Ripao band, Dominican dancers and MUCH MORE!
El Bazaar Dueños 2010 el domingo 10 de Octubre, 11AM – 7PM, será un dia llena de diversión y actividades, ademas de shopping, tenemos pautado entretenimiento como un malabarista , musica en vivo (Perico Ripao), bailarines y mucho mas!
Here we inform you of our LIVE entertainment schedule / aqui tenemos información sobre la entretenimiento: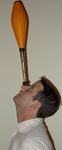 Juggler Extraordinaire: Daniel Kerr

(una malabarista)
Mr Kerr is the new 4th grade teacher from the Abraham Lincoln School, who in his spare time plays the squeeze box (a type of accordian),  juggles balls, clubs and spins a mysterious crsytal ball and can even ride a uni-cycle! During the Bazaar Dueños 2010, Mr Kerr will be performing a juggling act, incorporating a special type of juggling known as 'contact juggling' – which you can see in the video below:
Perico Ripao and Dominican Dancers

(Perico Ripao y Bailarines Dominicanas)
No party, festival or bazaar in the Dominican Republic can be complete without a Perico Ripao (a traditional Dominican merengue band), who will spend the day playing our favourite Latino tunes, creating a unique festival ambience for our very special bazaar! Dancing across the cobbles of Altos de Chavón will be a group of Dominican Dancers, swaying to the uplifting Dominican music, dancing with guests and even giving a few merengue lessons to those less confident dancers! Sunday October the 10th will be a day to dance, shop and have fun!
As well as our LIVE entertainers (juggler Daniel, the Perico Ripao and the dancers) there will be over 50 bazaar stalls selling everything from traditional Dominican handicrafts to high-fashion clothing, bathing suits and jewellery to cookies and candies, as well as art, hats, bags, purses and shoes. There will also be a number of activities to keep the children entertained; a 'children's party' being organised by 'Kidz n Casa,' a jewellery workshop for kids and adults being organised by Iliana Prado Customised jewellery, 'juegos de feria,' face-painting and a children's colouring workshop organised by the Hogar del Niño, 'taino' face-painting, and clay figure making being organised by the Museo Arqueológico and Periodikito will be helping children create an artistic photo of themselves using 'perlas plasticas.'
More details of all the activities coming soon!
Bazaar Dueños 2010, Sunday October 10th, 11AM-7PM in Altos de Chavon