This post is also available in: Spanish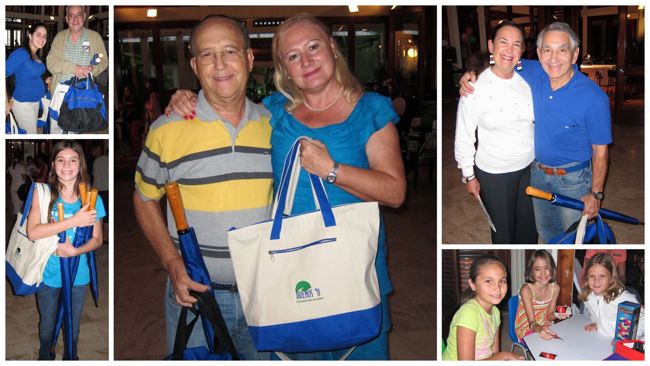 This year the annual Dueños 2011 event organized by Costasur and Casa de Campo for villa owners, began on Friday the 4th of November with the "Entrega de Regalos" (Dueños souvenir collection), which is progressively becoming more and more of an event – with all of Casa de Campo's departements involved to create a "feria-like" atmosphere.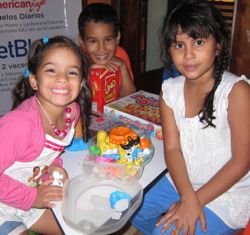 The 'Entrega de Regalos' was held in the the La Romana Country Club in Casa de Campo between 12pm and 8pm, and was not, as the name suggests just a 'giving of presents' – the La Romana Country Club had been transformed to showcase Casa de Campo's many assets and facilities, all of which could be enjoyed over a traditional fruit punch (last year these were rum punches, so this year some of us were disappointed!) Around the room were 'stands' representing the golf, polo, tennis, fitness centre, the shooting centre, Kidz n' Casa as well as 'alimentos y bebidos' (catering), who treated villa owners to a selection of picadera (snacks).
Livening up the "party" was a musical duo provided by the Altos de Chavón Amphitheater – which even got a few Casa de Campo villa owners dancing!
Want more photos and articles from Dueños 2011?
Then click on the links below:

Dueños 2011

A fantastic fun filled weekend for the villa owners of Casa de Campo

Souvenir Collection at the La Romana Country Club


Dueños 2011: Yoga on Minitas Beach

Dueños 2011: Running in the "Casathon" Casa de Campo's mini-marathon!

Dueños 2011: The Tennis Tournament

Dueños 2011: Tennis Clinics with the IMG Nick Bollettieri Academy

Dueños 2011: The Golf Tournament

Dueños 2011: Dinner-dance party at the La Romana Country Club, part 1

Dueños 2011: Dinner-dance party at the La Romana Country Club, part 2

Dueños 2011: Dinner-dance party at the La Romana Country Club, part 3

Dueños 2011: Dinner-dance party at the La Romana Country Club, part 4


Feria Dueños 2011

Feria Dueños 2011: A fabulous day for all the family in Casa de Campo!

Feria Dueños 2011: Fantastic Photos of the Taekwondo Show! POW!


Feria Dueños 2011: Collection of 400 PHOTOS by Talento A Domicilio and Frank Luna