This post is also available in: Spanish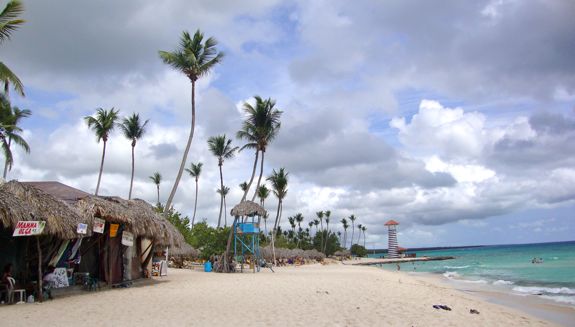 Did you know that popular local beach "Dominicus" is officially considered to be an "EU Blue Flag" beach? And having successful maintained the high standards to keep this status for the last 8 years, the La Romana-Bayahibe Hotels Association was recently formally rewarded for this achievement.
Dominicus Beach, officially referred to as "La Laguna Dominicus" on the EU Blue Flag website, as an "EU Blue Flag Beach" meets standards based on 32 criteria which cover 4 categories; Environmental Education and Information, Water Quality, Environmental Management as well as Safety and Services and having been awarded this recognition in 2004 has maintained these strict standards for the last 8 years.
The recognition/award for maintaining this standard for the last 8 years, as well as setting an example for other beaches in the La Romana – Bayahibe area, as well as the entire country (which only has 14 Blue Flag beaches in total) was awarded to Ana García, the Executive Director of the La Romana – Bayahibe Hotels Association by Irene Horejs, the Ambassador of the European Union delegation in the Dominican Republic.
[Click here for the 32 Blue Flag Beach criteria.]
The beach restaurant at Dominicus Beach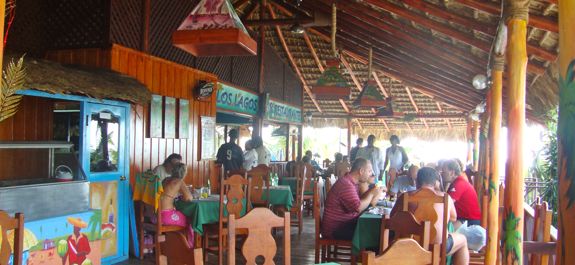 During the awards ceremony Ana Garcia thanked the hotels located on/close to Dominicus Beach for their support which has enabled the  La Romana-Bayahibe area to maintain the high standards of cleanliness found at this popular beach.
About Dominicus Beach

Dominicus Beach is located approximately a 30 minutes drive from Casa de Campo and the town of La Romana and as one of the only beaches in the area (except for Casa de Campo's private Minitas Beach), it is understandably a very popular spot, especially at weekends.

The "public" section of the beach is relatively small (about 200 meters long), but with white sands and blue water it is nevertheless very beautiful. There are several stalls selling typical Dominican artifacts, as well as a simple beach restaurant and rental of sun chairs is available.

The beach stretches out in both directions from the "public" section, where it technically becomes the property of the hotels and resorts located in each area – however members of the public, as well as visitors from other resorts/hotels are allowed to walk along the shoreline.

The public restroom is located in the beach restaurant centrally located on the "public" beach.