This post is also available in: Spanish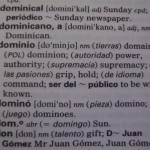 'Dominican' isn't exactly a real language, but it has enough dialects and unique words and phrases to confuse even the most fluent Spanish (or rather non-Dominican) speaker, and even some Dominicans!

As with dialects in any other country, 'Dominican' can be colorful and at times a tad confusing, so each week we will introduce common words in 'Dominican' that might be helpful for everyday use when talking in Spanish, or at least to help understand Dominicans!
Thanks once again for joining us in the discovery of new words in the fascinating Dominican slang!
This week's word is:

jeepeta (pronounced jee-peh-tah)

Any kind of SUV truck; derived from the brand Jeep.

Example: Lourdes acaba de comprar una jeepeta negra.

Lourdes has just bought a black SUV.
Don't forget, if you have any suggestions for a word or a phrase, just email: [email protected]