This post is also available in: Spanish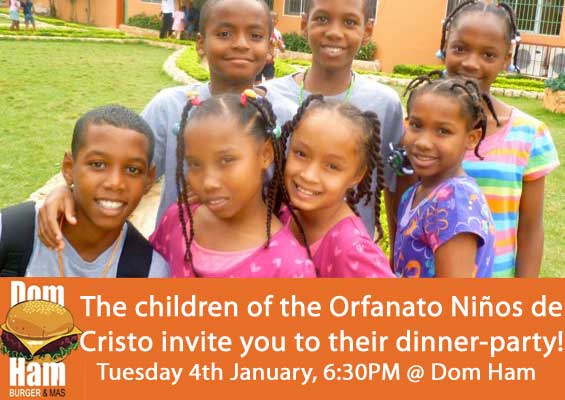 This Tuesday the 4th of January at 6:30PM, Casa de Campo Living, Dom Ham and the children of the Orfanato Niños de Cristo invite you to join us for a special celebratory burger-dinner at Dom Ham! (Debajo en Español.)
The fun celebration with 20 children of the Orfanatos Niño de Cristo orphanage is being kindly sponsored by Dom Ham and Casa de Campo Living and will be their prize for winning the 'Mejor Baile' (Best Dance) at the Teatro de la Comunidad talent show on December the 4th in the Altos de Chavón amphitheatre!
This dinner is NOT only for the children – more than anything else the children wish to share their celebration with YOU! Whether or not you have met any of the children before PLEASE come and join us, their smiles, happiness and love will make it a party you will never forget!
As part of the celebration the children will be doing a repeat performance of their famous 'Waka Waka' and 'Baby' dances which won them the prize in the first place!
DETAILS
When? Tuesday 4th January, 6:30PM
Where? Dom Ham, Calle Altragracia Esq. Benito Moncion, La Romana
Cost? FREE. To attend the party is FREE, but if you want to eat or drink then you just pay for what you buy!
Este Martes el 4 de Enero, Casa de Campo Living, Dom Ham y los Niños del Orfanato Niños de Cristo les invita a una cena especial en Dom Ham – una cena y celebración de su premio 'Mejor Baile' que ganaron en el Concurso de Talento 'Teatro de La Comunidad.'
Este cena NO es solo para los niños – para ellos es muy importante a compartir este gran celebración con ustedes! No lo pierdes!
Detalles
Cuando? Martes 4 de Enero, 6:30PM
Donde? Dom Ham , Calle Altragracia Esq. Benito Moncion, La Romana
Costo? GRATIS – pero si quiere comer o beber algo solo pagues por lo que consumes