This post is also available in: Spanish

The Fundación MIR charity founded by Lian Fanjul de Azqueta in 1990, is dedicated to improving the lives of young people in the La Romana area of the Dominican Republic. And whilst many generous souls from the Casa de Campo community happily donate to the MIR and attend the foundation's many annual charity events – do you really understand what it is the MIR does?
Here Lian Fanjul de Azqueta, founder and president of the Fundación MIR, explains in her words the important and life changing mission of the cause.
Dear Friends:

Fundacion MIR is proud to share with you the dedicated and inspired work beingaccomplished through its educational programs for the youth of the La Romana area.

Fundacion MIR endeavors to mold the total person: academically; spiritually; and socially. To accomplish this task, Fundacion MIR operates three schools that cater to the needs of over 1,000 students. Whether the student attends our Elementary School, Middle School, High School or is enrolled in one of our Vocational Programs, their well-being and formation are our primary focus.

Education has become our main goal because we hope to create individuals that will become inspired leaders in their families, communities and country. Making an investment in the youth of our nation benefits everyone. It is only because of your generosity that so many are able to participate in this educational experience.

Thank you for your willingness to walk with us on this journey of faith, hope and love. Supporting the Fundacion MIR Schools will transform the lives of many and will continue to inspire change in future generations. Please visit our website or contact us for opportunities to join us in our mission.

Sincerely,

Lian Fanjul de Azqueta
The Fundación MIR

For more information on the Fundación MIR and to make a donation, visit their website: www.mirinternational.org

To make a donation contact the MIR office in Casa de Campo (809-523-8270) or in West Palm Beach (561-366-5095). Donations are tax deductible for US Citizens!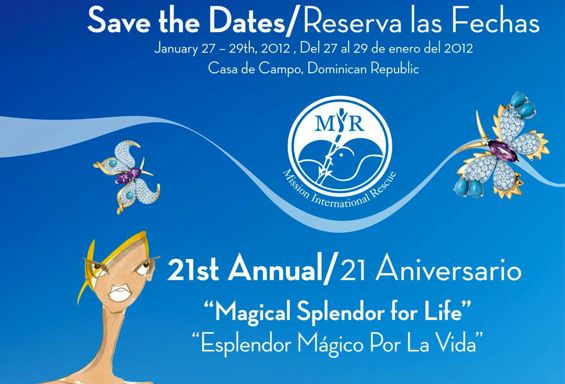 Save the date! Next year's 'Magical Splendor for Life' weekend and gala in aid of the Fundación MIR charity will take place from the 27th to the 29th of January 2012 – for more information on all the exciting, prestigious and luxurious events and activities taking place over that weekend, click here!
For more on the Fundación MIR, click on the links below:
Celebrating the XXI "Retiro Carismatico" with the Fundación MIR in Casa de Campo
Donate Books! The Fundación MIR's Book Drive needs your support!
Save the Date: Cartier Benefit for the Fundación MIR and the Hogar del Niño: Dec 29th
Celebrating the Inauguration of the Fundacion MIR's New Cooking Facility at the MIR Esperanza School
MIR Family Weekend for Life: Dinner – Gala