This post is also available in: Spanish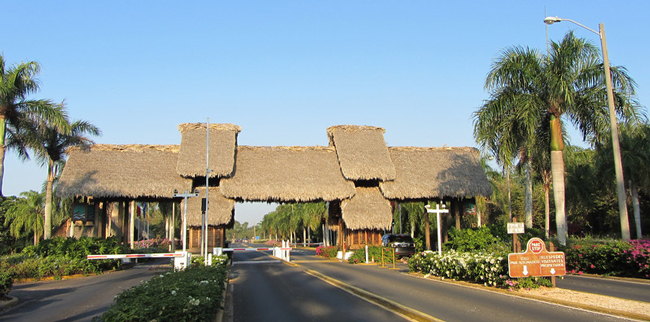 Over the last 30 years, the Casa de Campo resort has grown beyond everyone's expectations – so it is fabulous news that a "second main gate" to connect directly onto the new Autopista de Coral highway is being planned!
As far as we understand, the new "second main gate" will be located at the junction of the La Romana – Casa de Campo airport on the Autopista de Coral highway and will connect to the resort at the security gate leading up to Altos de Chavón – close to the Barranca Este and Las Cañas neighborhoods.
"They are already working on it. The area has been cleared and the plans are being worked on, but we don't yet know when it will be open.

This new entrance will give fast access from the Coral Highway and La Romana International airport directly into the resort and the residential areas of Los Altos, Vista Lago, Flamboyants, Dye Fore and many other neighborhoods."

— Maria E. Taylor Sales Coordinator at Costasur Dominicana
Construction dates for the "second main gate" are still being finalized , but it will be sometime after the second phase of the new Autopista de Coral highway leading from La Romana to Santo Domingo is completed and fully functional. This second phase of the highway is contractually obligated to be finished in December of this year, but there are hopes that it will be done by the end of November. So it seems the opening of the "second main gate" will come at some point in the new year (2014).
The below map of Casa de Campo shows a mock of where the new "second main gate" might be located when it is built. Please note that this map has been created by Silgon Inc., not Costasur and is just a rough estimate to give you an idea about where the gate will go. At present neither the road, nor the new gate (marked in red) exist.
Approximate map showing future location of the "second main gate"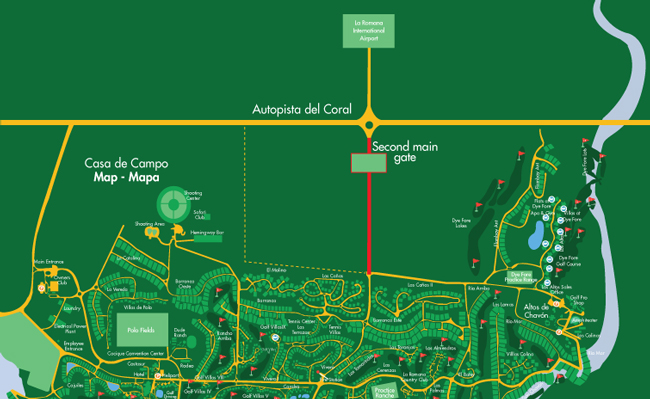 We applaud Costasur for planning ahead for the continued growth of the resort! The opening of this new "second main gate" will make getting into and out of Casa de Campo much quicker and convenient – especially for residents living in the more "northern" areas such as Altos de Chavón.
Thank you Costasur!