This post is also available in: Spanish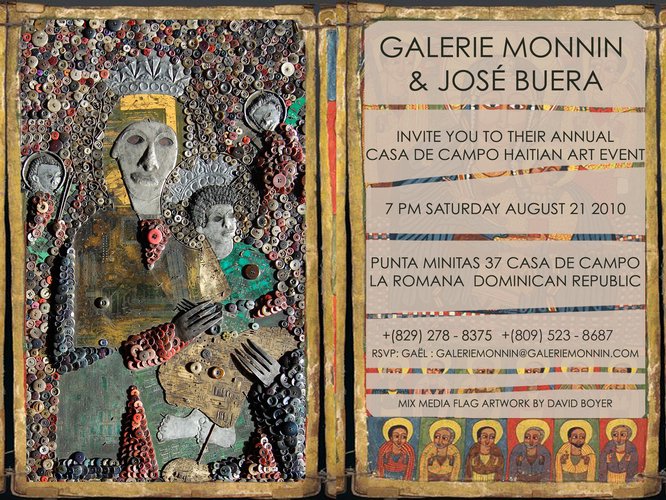 This Saturday the 21st of August at 7PM, Galerie Monnin and José Buera invite you to the opening of their annual Contemporary Art Exhibit in Casa de Campo, Punta Minitas 37. The exhibit, a collection of paintings, sculptures and photographs from Haitian artists will be open from this Saturday the 21st through to Tuesday the 24th.
The following is a press release from Galerie Monnin and José Buera, with more details about this exciting event.
GALERIE MONNIN & JOSÉ BUERA PRESENT CONTEMPORARY HAITIAN ART EXHIBIT AT CASA DE CAMPO
Casa de Campo/Port-au-Prince, August 16, 2010.
For the fifth year running, Galerie Monnin and Haitian Art Collector José Buera are hosting an exhibition of Haitian contemporary art in Casa de Campo. In the past, the exhibit has included paintings, sculptures, and photographs from the second to fourth generations of Haitian art with a focus on both Voodoo art and the latest generation of Haitian artists including Prospere Pierre Louis, André Blaise, Yves Michaud, Frantz Zéphirin, Mario Benjamin, Pascale Monnin and Sergine André.
The first show in 2005 was a result of a chance meeting on the internet when José was looking for a Saint Soleil painting which Gaël Monnin sourced for him and delivered to the Dominican Republic. To José's surprise, Gaël showed up with not only the requested piece, but with a whole collection of paintings to set up an impromptu art show in his villa. Since then, Gaël and José have hosted an annual exhibit to promote Haitian art while bringing a slice of Haitian culture to their Dominican neighbors.
This year Gaël Monnin will be making the 13 hour drive, from Port-au-Prince to the golfing community in Casa de Campo, with a collection of paintings, sculptures and voodoo flags. This year exhibit will include some of the first samples of art inspired or influenced by the Bagay-la, meaning "That Thing" in creole, which is the name locals have given to the unnameable January 12th earthquake that devastated Haiti's capital showcasing its people resilience and joie de vivre in the face of adversity. Ten percent (10%) of this year's sales will be donated to FONDAM a non-profit organization which has a twofold purpose, to reforest the mountainous community of Port Salut in the south of Haiti and to teach environmental and civic education in the community's schools.
The exhibit is scheduled to open with a cocktail reception at Punta Minitas 37 in Casa de Campo on Saturday August 21, 2010 at 7:00 p.m. The exhibit will be available thereafter until Tuesday 24th by prior appointment. To celebrate the fifth edition of this show, we will toast with delicious Haitian rum and dance to the rhythm of the drums, the traditional sound of voodoo music.
For more information about this exhibition, please contact Gaël Monnin at + (829) 278 83 75 or [email protected] Guided tour of the upcoming exhibit is available upon request.
Cheers Gaël y José