This post is also available in: Spanish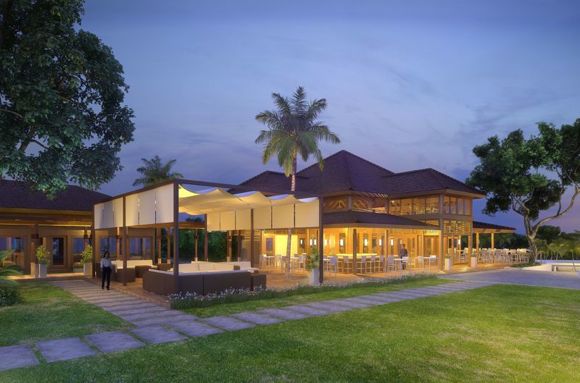 Casa de Campo hotel is currently undergoing a massive renovation – spending in excess of $20 million dollars on improvements. This first refurbishment stage will be completed by the 1st of December, when new Elite guest rooms and suites, a new hotel lobby area, new swimming pool, new gym facilities and a new central hotel restaurant and lounge will be unveiled.
We can now reveal that the new restaurant and lounge, to be situated in the main hotel area, will be the 'La Caña Restaurant & Lounge by Il Circo.' The above photograph is a rendering of how this new restaurant/lounge will look – modern, chic and quiet simply beautiful, I can't wait to enjoy dinner or an afternoon drink there!
Here is Casa de Campo's official press release about the new 'La Caña Restaurant & Lounge by Il Circo'
The new main area with its grand open spaces takes full advantage of the surrounding natural Caribbean beauty in a minimalist design. A novel exciting feature: La Caña Restaurant & Lounge by Il Circo, a fine dining restaurant with both indoor and al fresco dining, under the guidance of the Maccioni family of Le Cirque in New York. This will be their second venture at Casa de Campo for the Maccioni family, following the beautiful Beach Club by Le Cirque at the resort's Minitas Beach.