This post is also available in: Spanish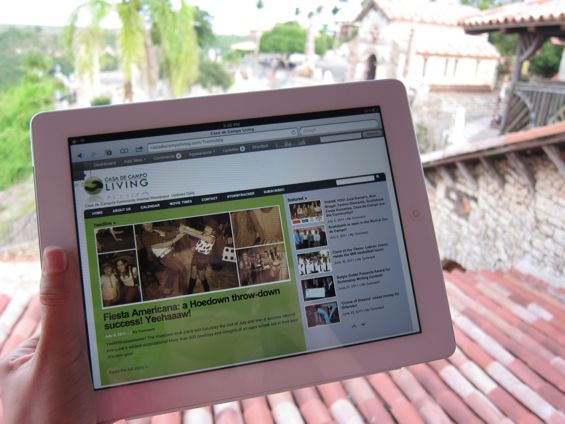 Recently, a lot of my clients in Casa de Campo have been asking if they should get an Ipad – even though they already have a desktop or laptop computer. The answer is not a simple yes or no – read on for my advice on how to decide if you really need an Ipad…..
Who is Moises? Click here to find out more about Moises – Casa de Campo's unofficial computer support and tech guy!
Before buying any tech equipment you should consider the following:
1. What am I going to use it for?
2. Will I have time for it?
3. When is the next version coming out?
In regards to the Ipad I will answer these questions and I hope they will help you in deciding whether to buy an Ipad or not.
What am I going to use it for?
If you already have a computer – you do not NEED an Ipad, because everything that can be done on a computer, can also be done on an Ipad. However, you may like an Ipad because you can carry it wherever you like it and use it from the comfort of your favorite armchair, beside the pool or at the breakfast table.
Some of the most common uses of the Ipad are:
Surfing the internet
This is actually a fun task when doing it on the Ipad. You use your fingers as the mouse and one feature which many Casa de Campo villa owners love is the ZOOM. With your fingers you can zoom in on any text or picture for better viewing.
Emailing
If you check your email every hour or so – the Ipad is for you.
Recipe Book
Take the Ipad to the kitchen and with a touch on the screen the Ipad will translate the recipe into spanish for your cook. Or if you want to cook yourself you can take the Ipad into the kitchen with you and just use it like a recipe book – no need to waste paper by printing out your recipe.
E-Reader
An Ipad can be used like the Kindle – it has enough space to store all of your favorite books and weighs less than 1.5lb. Who thought that you could carry over 1 million books in your bag! Reading on the Ipad is easy, fun and easy on the eyes – you can adjust the size of the text to suit you and even use the dictionary function to look up words you don't know. It is amazing to read from the Ipad.
Skype
The first Ipad that came out allowed us to make calls just like a regular phone. The second Ipad to hit the market (Ipad2) is allowing us to make calls and also do video calling.
Will I have time for it?
It takes a few days to learn how to use the Ipad, so you should have some time available to read the manual or have someone teach you. If you are used to using a Windows computer you will need to dedicate some time to learn the Ipad vocabulary, but if you are used to apple or mac you shouldn't have too much trouble learning to use the Ipad.
When is the next version coming out?
Sometimes we buy tech equipment and then the week after you see a comercial for the same thing you just bought – but better and cheaper. This is call the next generation.
The first generation Ipad1 was released in April 2010 and the second generation Ipad2 in March 2011. So it's a good idea to check when is the next one of what ever you are buying being released.
In a nutshell: Nearly everything you can do on a desktop or laptop computer can be done on a 1.5lb Ipad.
This article was written by Moises Alberto Milford

[email protected]
809.853.2367

To read more about Moises and his history as Casa de Campo's unofficial computer and technology expert, click here.