This post is also available in: Spanish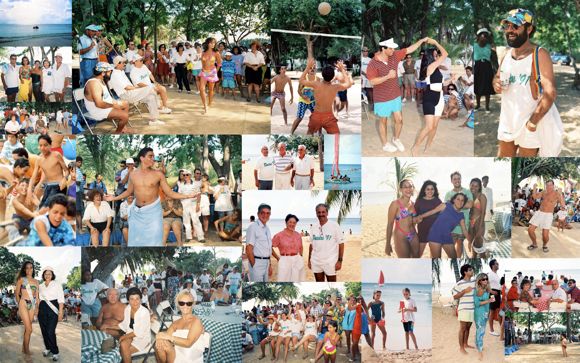 The Dueños events have been a yearly Casa de Campo tradition for many years – and we have recently found a treasure trove of photos from Dueños 1991!  If you look closely you will be able to spot some people you know – some who may be a little embarrassed by their 80's style outfits!
Back in 1991, over 18 years ago Carol Burke, now our 'Memories of Casa de Campo' writer, was the official photographer of the event. During the event Carol took over 1,200 photos – thats a lot of photos!
Obviously, in 1991 there were no digital cameras, so Carol is working very hard at the moment to digitise all her Dueños photos, above you can see a collage of the first 22 photos she has converted into digital beauty. After the last article many of you asked us about being able to purchase some of these photos in high-resolution, a wonderful idea which we brought to Carols's attention.
As you can imagine digitalising these photographs is a very time-consuming process, which she is currently undertaking. Nevertheless, we are putting together the first collection of photos onto 'SmugMug' (an online photo album) which will allow you to view the photos, but not download them, if you would like to download them, or request prints, there will be a small fee which can be paid by credit card. A CD-ROM with the full collection of the event will also be available for those interested.
Details will be forthcoming as we work with Carol on the specifics, so in the meantime please let us know if you think you might be interested in purchasing any of these photos – just leave a comment below!