This post is also available in: Spanish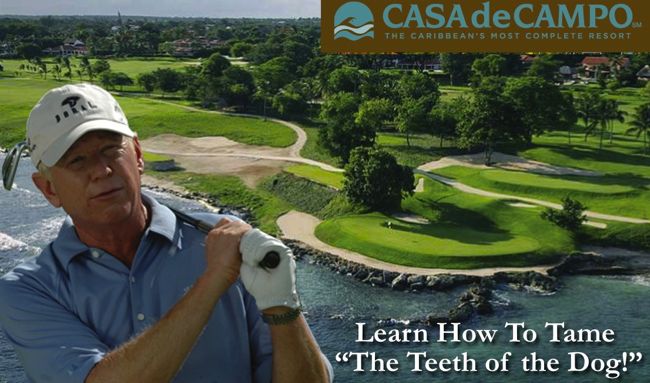 Jim McLean, one of the world's best golf teachers and owner of the Jim McLean golf academy, will be in Casa de Campo from the 2nd to the 7th of December to teach a series of golf clinics, as well as a 4-day golf school.
Since opening the Jim McLean golf school in Casa de Campo, with Eric Lillibridge as Director of Instruction, Eric has had great success drastically improving the games of literally hundreds of Casa de Campo golfers – both Casa de Campo villa owners, residents and visitors alike.
Nothing however can beat the tuition of Jim McLean himself, so now is your chance to learn from the master.
In order to accommodate more students, but still give the best level of tuition possible, Jim's teaching sessions are being offered in the form of 2 consecutive clinics, or a 4-day golf school – see below for full details.
Attendees of both the school and the clinics will benefit from Jim McLean's expert tuition, as well as the most modern teaching technology such as "Golf BioDynamics 3D Analysis" and "Video Swing Analysis."
Teaching alongside Jim McLean for these sessions will be our very own Eric Lillibridge.
Eric Lillibridge with one of his students in Casa de Campo


"My role is to be the Instructor below Jim. Jim usually does the presentations, but I teach and then I have an assistant that prepares everything for us. There will also be 3 other teachers here as well. 

Spending a time with one of the best golf instructors/golf legends in the world, it is impossible not to improve your game. On average, our students have improved over 4 strokes in only 6-Days. You will improve your swing, improve all aspects of your shortgame, and most importantly improve your course management and mental game."

—- Eric Lillibridge, Director of Instruction at Jim McLean School in Casa de Campo

To read more about Eric Lillibridge, click here!
Learn golf with Jim McLean, Casa de Campo

Option #1: Clinics

When: December 2nd, 2pm – 5pm and December 3rd, 9am – 12pm

Where: Casa de Campo golf


Cost: USD$995 per person (includes 6 hours of golf instruction)

For: Advanced – intermediate golfers

Option #1: 4-day golf school

When: 4th – 7th of December, 9am – 5pm

Where: Casa de Campo golf


Cost: USD$4495 per person (includes more than 24 hours of golf instruction, 2:1 student – teacher ratio, daily breakfast and lunch, as well as 1 round on the Teeth of the Dog and Dye Fore.)

For: 0-20 handicappers

Contact: [email protected]
Do not miss the once in a lifetime opportunity to be taught by Jim McLean, one of the best in the business!!

The Jim McLean Golf Academy

The Jim McLean Golf School is considered to be the #1 golf school in the world, with some of the world's best golf instructors. The Director of the Jim McLean Golf Academy in Casa de Campo is Eric Lillibridge, has worked for the Jim McLean Golf School for five years and spent two of those years working directly under Jim McLean as his teaching assistant. As Eric says, "The bottom line is, my students have fun and they get better at golf!"

Lessons available daily

Instructor: Eric Lillibridge
Tel:  809-523-3187 / 809-523-3418
Email: [email protected]