This post is also available in: Spanish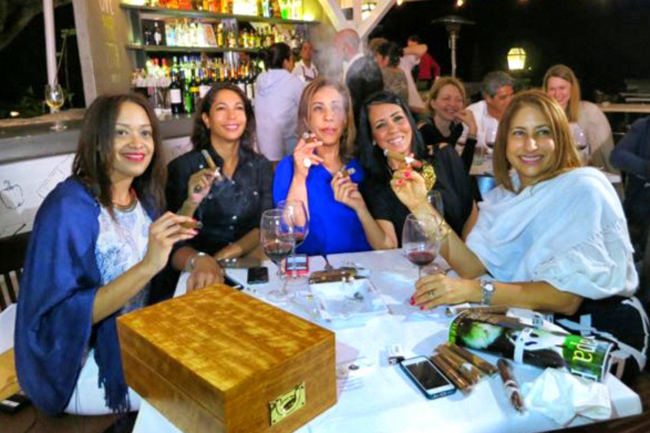 Smoking cigars is decidedly a man thing. But today as ladies are slowly but surely embracing good scotch, also traditionally a men's passion, why shouldn't ladies venture into the world of cigar smoking? After all if so many men love it, why not us ladies too?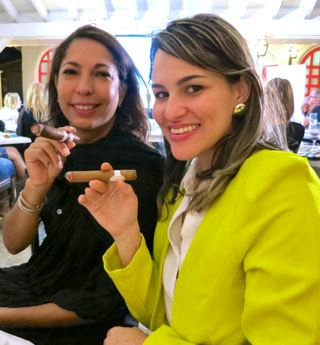 And that was exactly the point of the Davidoff Ladies Masterclass hosted at Café Marietta in Altos de Chavón on Monday February 23rd. As Vincent Krembel, Davidoff brand ambassador explained "we see women coming to our events, and they want to try a cigar too, but they don't know how."
The evening started just as all the best gatherings should, with a glass or two of champagne, before the ladies (and gentlemen) took their seats and enjoyed a delicious Café Marietta dinner which included ceviche, croquettas and eggplant parmigiana.
And then it was time to learn about cigars. We first discovered the incredible 5 year process of creating a fine cigar, a process that starts with fertilising by hand, planting by hand and later even picking the leaves by hand – and all the steps in between before the final cigar is also rolled by hand at the Davidoff headquarters right here in the Dominican Republic, in Santiago.
So what about actually smoking a cigar?
Here are a few things to remember:
1. When cutting a cigar, it is the "head" you should cut and you shouldn't be cutting more than a few millimetres.
2. When lighting a cigar you should use an odorless flame, which means no sulfurous matches, candles or gasoline lighters.
3. Don't inhale. You don't inhale cigar smoke you role it about in your mouth, savour the flavor and let it blow out again.
4. Don't stub out your cigar, don't tap off the ash, and never relight a cold cigar.
5. The ring (the circular label near the head of the cigar) can be removed. It's traditionally there because it was once intended to protect fingers from stains. Nowadays however you can take that ring off and keep smoking right up to the end – remember your cigar took at least 5 years to produce so you don't want to let it go to waste.
6. Size doesn't matter. Quality, or more accurately it's the blend that counts.
So for those of you, ladies or gentlemen, who feel inspired to try a good cigar, remember the Cabinet Tabacco Boutique has just opened in Altos de Chavón, and they're the exclusive representatives of Davidoff cigars in the Dominican Republic. (Click here to read about cabinet Tabacco Boutique.)
The following collection of photos were taken during the Davidoff Ladies Masterclass at Café Marietta in Altos de Chavón: