This post is also available in: Spanish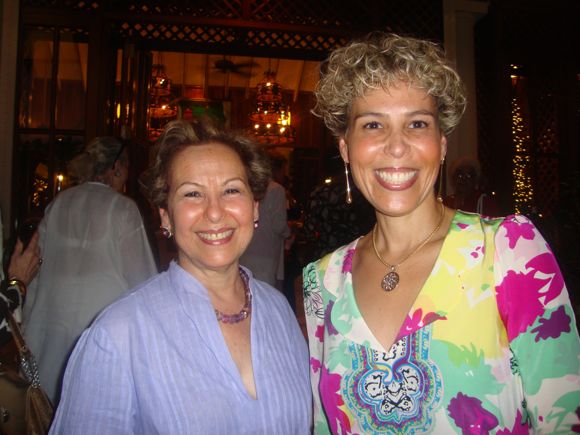 This month's Cafe de La Leche took place at the absolutely gorgeous house of Xiomara Menendez, in Bahia Minitas in Casa de Campo. The event was an overwhelming success with literally hundreds of bags of candies and chocolate donated for the Hogar del Niño's Christmas party.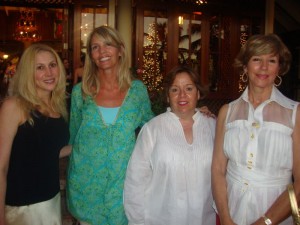 Xiomara's house is set in the beautiful cove of Bahia Minitas, virtually alongside Playa Minitas – with a stunning view of the ocean, it was the perfect setting for the last Cafe de la Leche of the year. The house was completely decorated with christmas lights, Santa figures and there was even a very large Christmas village display in the center of the house.
The event was full with over 200 Casa de Campo villa owners – all friends and supporters of the Hogar del Niño, who were happy to attend such a beautiful event, to mingle with friends, old and new, sample some delicious food and drinks and of course donate to the Hogar del Niño – who are holding their Christmas Party on Thursday the 17th of December from 9am to 1pm.
Everyone was in the Christmas spirit, with many ladies (myself included) enjoying the wonderful Egg Nog on offer or 'Ponche' in Spanish (excuse my spelling!) Also on offer were Tamarindo, Sandia and Sidra, which were all no doubt delicious – although I can't comment, after all I didn't try them all!!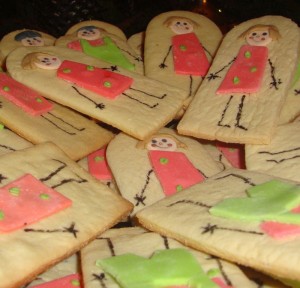 The food, catered by Pitiri Herrera, was a real Christmas feast, which was very much enjoyed (and devoured) by the guests! On offer was roast pork, berenjena rolls, chicken rolls, pate, tomato and mozzarella, mini quiche and so much more I can't even remember, but I do remember it all being exceptionally good! As always there was a tantalising selection of deserts, in perfectly small portions so that you could eat two or three or several without feeling too greedy….  My absolute favourite food of the day had to be the special Hogar del Niño biscuits – which had been specially iced with the children logo of the Hogar del Niño.
This was truly a very special event, congratulations and many thanks to Xiomara for  invited us all into her home to enjoy it!
Remember, the Hogar del Niño's Christmas party is being held on Thursday the 17th of December from 9am to 1pm, everyone is invited and encouraged to attend – to share the Christmas cheer! To take part in the Christmas Party just email: [email protected] for more information.
Here are the FIRST batch of my photos – I took so many because there were just so many beautiful ladies! The rest of the photos will follow in a separate post!
To find out more about the Hogar del Niño or make a donation, their contact information is:

Dominican Republic:
PATRONATO BENEFICO ORIENTAL
Avenida Libertad #5, La Romana, Rep. Dominicana
Tel. 809-523-8901, 809-556-3181. Fax. 809-550-9661

[email protected], www.hogardelnino.com

United States:
PBO of US
2600 S.W. 3rd Ave., Suite 600
Miami, Florida 33129
Tel. 305-854-4234, Fax 305-854-0796
This article was written by Rebecca Hughes, editor of Casa de Campo Living and Casa de Campo's entertainment specialist!

Rebecca Hughes, Editorial and Events Marketing
[email protected]
TEL: 809-523-2045   CEL: 809-949-8906
BBM: 230DA5D1
Altos de Chavón, Casa de Campo

This article was produced exclusively for www.casadecampoliving.com