This post is also available in: Spanish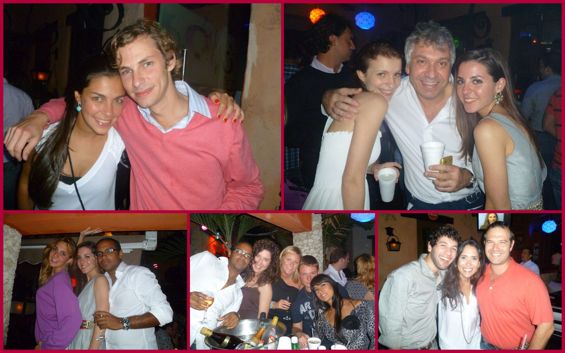 Having spent the afternoon on Dec 23rd entertaining more than 30 excited little ones during the Kids Christmas Party at Onno's Bar, when the evening of Dec the 25th came around it was time for me to be back at Onno's bar – this time to party among the big kids! 
Of course Christmas is a time for families to be together, but following dinner at La Piazetta on Christmas Eve (or rather Noche Buena), midnight mass, a visit from Santa Claus and another Christmas dinner at La Caña bar on Christmas day (not so traditional, but they do great pasta….) – I was ready for party time!
And where better to party in Casa de Campo than at Onno's Bar? The Marina Casa de Campo is perfect for a dressed-up dinner, the La Caña Bar at the hotel is lovely for a relaxed sophisticated drink, but Casa de Campo's 'party' place is undoubtedly Altos de Chavón – Papa Jacks for the slightly younger crowd, Onno's Bar for the slightly older!
And so being 'slightly older' (now the later side of 25) Onno's Bar was the place for me! Great music, great friends, great drinks, some slightly dodgy dance moves (hey I am English) and I was in bed by 4am! Although one night of wanton, reckless partying was more than enough for me, according to my sources Onno's Bar has been and will be equally busy and 'full' (Dominican meaning – AWESOME DUDE) every night for the rest of the season!
Apart from partying in Altos de Chavón (always an options after 1am), here is my rundown of activities and parties for the rest of this 'party week'
Tuesday 28th Dec (Today)
Wednesday 29th Dec
Thursday 30th Dec
Friday 31st Dec – New Years Eve!!!
DOWNLOADING THE PHOTOS
To download these photos, follow these easy steps:
1. Right click on the SMALL photo (before it has been enlarged)
2. Chose 'Open link in new tab'
3. Right click on the individual photo and click 'Save photo as'

A DESCARGAR LAS FOTOS
1. Haz click derecho cuando la foto es pequeña
2. Elige la opción 'Abrir link en la nueva tabla' o 'Open link in new tab'
3. Haz click derecho en la foto y elige 'Guardar foto' o 'Save photo as'