This post is also available in: Spanish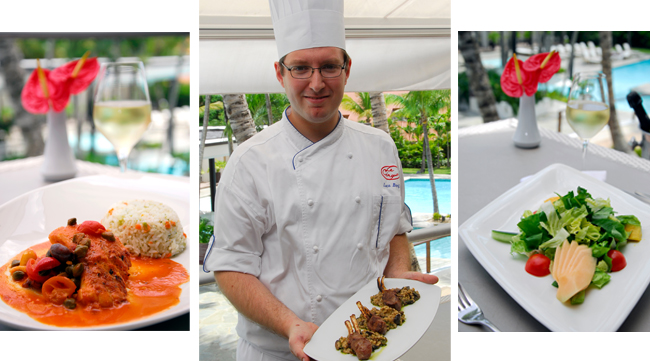 When Marco, Mauro and Mario Maccioni, co-owners of the acclaimed New York based restaurant group Le Cirque International decided to open a new restaurant at the Intercontinental Abu Dhabi, rather than hiring a chef they decided to take part in the Food Network's "Chef Wanted with Anne Burrell" to help them find the perfect one… and our very own Chef Luca Banfi was one of the candidates! 
After spending over 10 years in San Diego, Luca Banfi embraced life in Casa de Campo as the head Chef of both the Beach Club by Le Cirque at Minitas Beach and La Caña by Il Circo at the Casa de Campo Hotel from May 2011 until his recent departure in May of this year… little did we know that he was leaving in search of TV stardom!

Shortly following his departure from Casa de Campo, Luca, having been selected as one of the potential new chef's for Le Cirque's first restaurant in the Middle East, competed alongside 3 other chefs for the role on the Food Network's "Chef Wanted with Anne Burrell" – challenging all of them to
Tune in to find out!
The episode featuring Chef Luca will be aired on the Food Channel this week at the following times:

• Thursday August 8th at 10:00 PM ET/PT
• Friday August 9th, at 1:00 AM ET/PT
• Saturday August 11th at 12:00 PM ET/PT

[ET/PT means the show will be aired first at 10:00 PM ET (Eastern Time) and then 3 hours later at 10:00 PM PT (Pacific time)]
Excited to hear about Luca's upcoming debut as a reality TV star, we got together with our favorite chef to find out a little bit more…
@cdcliving: What did you like best about Casa de Campo?
If only there was just one thing I liked best! The peace and tranquility, the beach, and of course all the wonderful friends I made in my time there!
Chef Luca with friends in Casa de Campo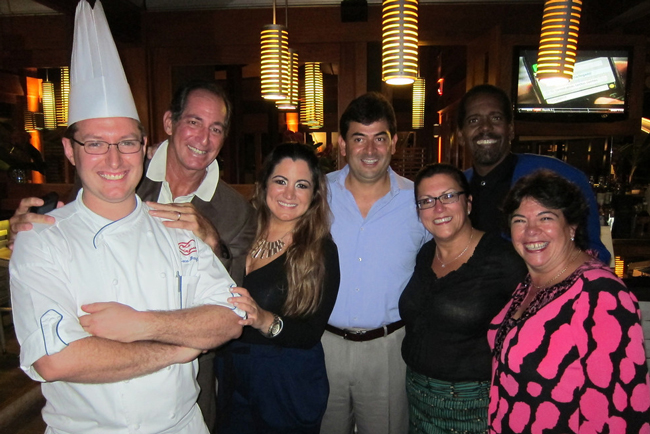 @cdcliving: Why did you leave?
This was a tough decision since I really liked the place and the lifestyle; ultimately I decided it was time to move on to pursue other opportunities to further grow in this field and perhaps travel a bit more.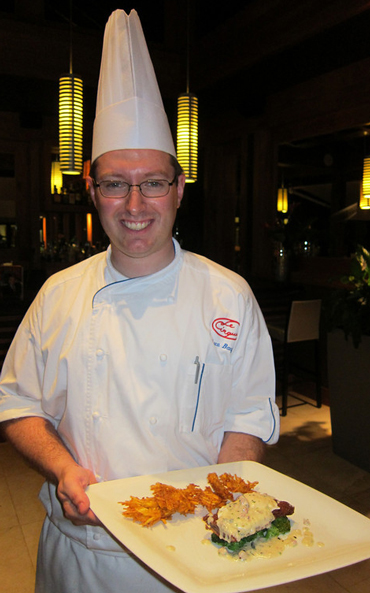 @cdcliving: So how did the opportunity to be on Chef Wanted come about?
The opportunity to be on Chef Wanted came as an unexpected surprise: I had heard from the Le Cirque group about the project in Abu Dhabi and had expressed interest in it, so when they were approached by the show, things just fell in place and next thing you know I'm in New York competing!
@cdcliving: What was your experience taking part in the show?
I have to say this was the most intense experience I've had and it was a lot of fun, but also incredibly nerve-racking and stressful at the same time!
@cdcliving: Did you win?
Haha, who am I to ruin the surprise? You'll all have to tune in and watch! Besides, a little suspense is always good!
@cdcliving: Any memorable moments you can tell us about before the show?
All I can say is that there's going to be quite a few surprises, including a big incident at one point, but again you'll have to watch it all!