This post is also available in: Spanish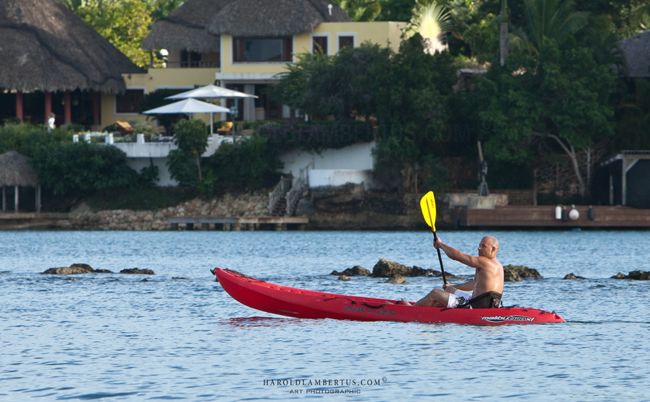 This week's Casa de Campo photo of the week was contributed by Casa de Campo villa owner and photographer, Harlod Lambertus and was taken during the Joli-Day Beach event celebrated last Saturday the 26th of November on Casa de Campo's Minitas Beach.
As you can see, the photo is of famous actor and producer, Vin Diesel paddling about in a Casa de Campo canoe just off the Minitas beach. In the background of the photos you can see some stunning oceanfront Casa de Campo villas located in the Bahia Minitas area of Casa de Campo.
For more photos of Vin Diesel at Joli-Day Beach, click here!
This is not the first time we have spotted Vin Diesel in Casa de Campo – in fact it would seem he quiet likes it here! On one of his previous visits he was spotted at Onno's Bar in Altos de Chavón – click here for photos!
Joli-Day Beach 2011: Sun, sea, sand and the water roller!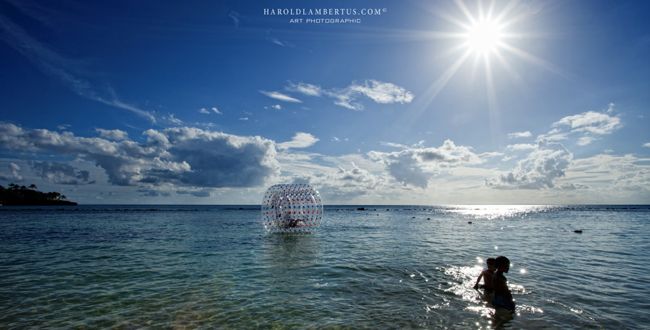 Harold is a fantastic photographer, so here we bring you a selection of other impressive photos taken by Harold during Joli-Day Beach in Casa de Campo:
To find out more about Harold and see more photos, visit his flickr: http://www.flickr.com/photos/haroldlambertus
About Joli-Day Beach 2011!

"Joli-Day Beach" is a fun family-friendly event organized by Casa de Campo Living held every year over the Thanksgiving weekend on Casa de Campo's Minitas beach.

This year the Joli-Day Beach celebration was sponsored by United Brands with Coors Light Beer and Ketel One Vodka, whose support allowed us to organize a fun-filled day with the "Super Tobogán" water slide and the bungee run as well as the water roller and giant inflatable human beach balls!

Also supporting the event was the Casa de Campo resort who not only provided the beach, but also prepared a special Beach BBQ (with hamburgers only RD$100!!) and organized a variety of free kids activities such as ping pong and volleyball tournaments, painting and other games!

Click on the links below for even more photos of Joli-Day Beach 2011:

• Casa de Campo celebrates Joli-Day Beach 2011! Splish Splash what a bash!

• PHOTOS of Joli-Day Beach 2011!

• Celebrities in Casa de Campo: Vin Diesel joins us for Joli-Day Beach at Minitas!


• Thank You United Brands! Coors Light and Ketel One Vodka put the "joli" in Joli-Day Beach!