This post is also available in: Spanish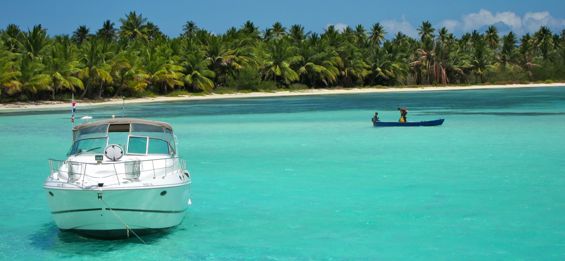 This week's "Casa de Campo Photo of the Week" is one of serenity, beauty and good times, but is also a sobering reminder of 2 very different Dominican lifestyles….
One the one hand (literally on the left hand side of the picture), we have a luxury yacht, a symbol of a typical Casa de Campo luxury lifestyle, whilst on the other hand we see a small rural fishing boat, the livelihood and source of income for many local Dominican people.
Whilst I wouldn't want anyone to feel guilty about owning or enjoying a yacht – everyone who has every been lucky enough to enjoy Palmilla will know that it is one of the best places in the world and it is certainly one of my all time favorite places to party and/or relax – I just think that sometimes it is good to reflect and remember how lucky we are.
When partying in Palmilla, please remember that there are fisherman who do earn their living from fishing in this area – so don't throw rubbish in the sea, and why not buy from them some of their freshly caught lobster?
This article was written by Rebecca Hughes, editor of Casa de Campo Living and Casa de Campo's entertainment specialist!

Rebecca Hughes, Editorial and Events Marketing
[email protected]
TEL: 809-523-2045   CEL: 809-949-8906
BBM: 230DA5D1
Altos de Chavón, Casa de Campo La Romana

This article was produced exclusively for www.casadecampoliving.com