This post is also available in: Spanish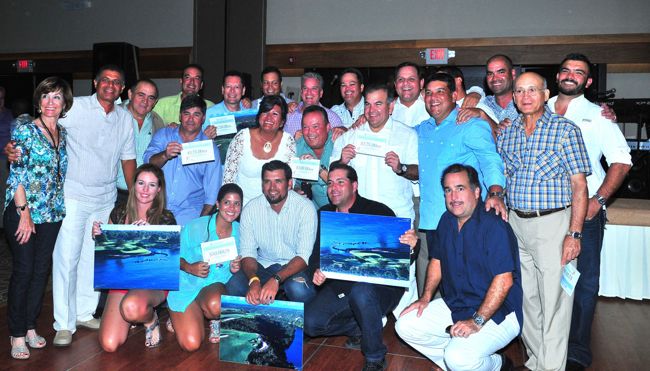 From Wednesday the 12th to Sunday the 16th of September 2012, the 31st annual "Casa de Campo Open", the oldest and most popular golf event in Casa de Campo golfing history, organized by the Casa de Campo Golf department and founded by Director of golf, Gilles Gagnon, was celebrated on the Teeth of the Dog, Links and Dye Fore golf courses. This fabulous tournament ended with a fun dinner and prize-giving ceremony at Casa de Campo's Flamboyan Conference Center and here we bring you the photos and the winners!
The fun golfing event which introduced guests to Casa de Campo's magnificent Pete Dye designed golf courses; Teeth of the Dog, Links and Dye Fore, was from beginning to end, filled with wonderful social activities, involving many Dominican golfers mingling with players from across the world, from the USA, Aruba, France, Saint Thomas, Curazao, Canada, the Bahamas, Costa Rica, Mexico, Haiti, Italy, Venezuela, Puerto Rico, Australia! And given it was a really big group, the event came to an end with the results of happy winners and great dancing!!
Casa de Campo Open – Winners!
Men's Division

Category A
Rafael Aponte

Category B
Champion: Javier Roman
Net: Jesus Martinez Vela


Category C
Champion: Jose Raul Colon Perez
Net: Paul Andres Khazen


Category D
Francisco Murillo

Ladies' Division

Category A
Champion: Yolecci Jimenez
Net: Maria Carlota Oviedo de Aponte

Category B
Tere Ledesma

Category C
Champion: Jill Dennett
Net: Danaik Lopez
Congratulations to all winners and participants – and especially to Casa de Campo's wonderful golf department!
Here we share a selection of photos taken during the dinner and prize-giving ceremony held on Sunday 16th of September at the Flamboyan Conference Center in Casa de Campo's main hotel area: